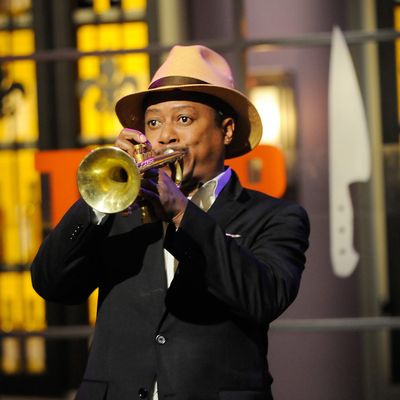 Are you ready for the inevitable jazz challenge?
Photo: David Moir/Bravo
Top Chef: New Orleans is finally starting to fire on all cylinders. What once was a chaotic kitchen is now down to twelve chefs. Personalities are starting to reveal themselves, front-runners are emerging. We've finally got people to root for besides Padma's pharmacist. Now we're cooking with a General Electric Monogram convection oven, folks.
Tonight's themes are improvisation and teamwork, which we hit right away in our Quickfire Challenge. Legendary New Orleans trumpeter, chef, and gadabout Kermit Ruffins leads a game of Musical Cooking Stations, wherein each cheftestant will have to improvise a dish with whatever ingredients and heating implements they land on. Then, when he starts playing again, they'll move on, stop at another station, try to guess what their competitor was trying to make, and continue cooking. And over and over it goes for 30 minutes, after which each chef will be judged on the dish he or she finished. Winner gets immunity. The viewer gets confused. I choose to focus on Kermit's dazzling madras patchwork trousers rather than make sense of the rules.
"It's like playing in a jazz band! You have to make sure your bandmate's solo is going in the right direction," explains Kermit. And he's right. And watching it is a lot like watching a jazz band made up almost entirely of white and Asian people who look like they're having an awful time.
(A quick aside here: What percentage of the New Orleans population can be described as "legendary" and "slash chef"? I'm thinking 80 percent.)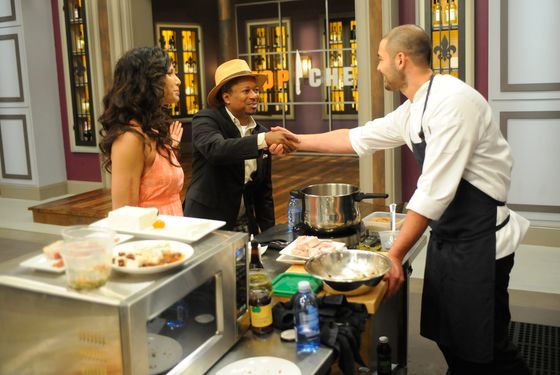 Jazz handshake.Photo: David Moir/Bravo
Sara starts out at a duck-and-sauté-pan station and jumps right in. Justin stuffs some quail breasts. Nina lands at Sara's station and thinks it's supposed to be something Asian. Brian lands at a station that he doesn't understand, so he simply sautés some vegetables, which seems like a reasonable thing to do. Everybody lands back at their original stations, and immediately becomes furious with everybody else for not being psychic. And then everyone winds up at yet another station for the last five minutes, to put the finishing touches on dishes they may not even recognize. And then we look at pictures of the resulting food, and we spend an hour a week this way.
Brian wins for finishing up Sara's duck, and "doing the most with what he found at his station." Which is not really true! Everything that Padma and Kermit loved about the dish was Sara's idea. You are correct in assuming that Sara takes the loss poorly.
Not participating in the Quickfire is Nicholas, who's posted up at the Chef's Quarters with strep throat. And as Padma explains, in an ADR'd monologue that was clearly recorded months later, if he doesn't get better in time for the Elimination Challenge, he must forfeit and pack his knives. This strikes me as terribly unfair, because I have a crush on Nicholas and there is no other reason. Get well soon, glumly handsome one.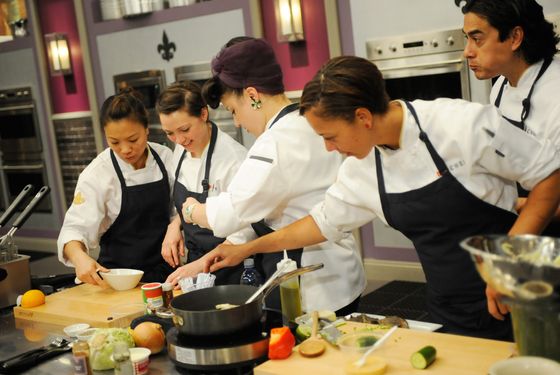 Nobody knows what's going on.Photo: David Moir/Bravo
(Yet another quick aside: Nicholas is tended to by an urgent-care doctor who makes a house call. Who's got dibs on the New Orleans house-call urgent-care-doctor reality show?)
The far more important Elimination Challenge is blessedly much simpler to explain: Teams of four will cook a potluck-style dinner for some jazz types at Kermit's restaurant. This seems like an easy one to ace; jazz people are notorious stoners. Carrie, Stephanie, Nina, and Carlos join forces as the Green Team; Shirley, Louis, Justin, and Sara are our Blue Team; and Brian, Travis, and Patty join forces on the Gray Team, which matches the current skin tone of their potential fourth member Nicholas.
By the end of the day, Nicholas is feeling better. He is still contagious though, so he monitors the trip to Whole Foods via speaker phone, giving clear fish-buying instructions to Travis, who mostly ignores him.
And then it's off for a fun night out at Vaughan's Lounge. Errbody in the club gets tipsy, and I kind of wish we could spend the remainder of the show here, because I really want to see Nina get drunk and start a fistfight, but the whole scene comes and goes in the blink of an eye.
On the next day, Nicholas is cleared to return to the kitchen, and work begins in earnest. The gang has two hours in the Top Chef Kitchen, and then 30 minutes to finish up in the kitchen of Kermit's Treme Speakeasy. Nicholas throws himself into prep work, being careful to wear gloves even though the alcohol in everyone's system could stop MRSA in its tracks. Everybody chooses dishes with a high degree of difficulty, except for weepy Patty, who I sort of can't believe is still here.
The Blue Team serves up shrimp and grits (Justin), grilled and pickled vegetables (Louis), and glazed beef (Sara and Shirley). The reviews are all good, mostly variations on "mmm-MMM." Jazz people are not known for their eloquence. The Gray Team has some trouble: Nick's fish filets are too thin, thanks to Travis's poor listening skills, and Patty forgets the chili threads that would have given her melon salad some oomph. But Travis's caramelized ribs and Brian and Nicholas's fried chicken are crowd pleasers. The Greens do an Italian potluck, leading with Stephanie's fried artichokes, into Nina's gnocchetti and finishing with Carrie and Carlos's nectarine tiramisu. The crowd goes wild, except for the dessert. "I'd call this more of a trifle," sniffs Gail. Persnickety food people are the best.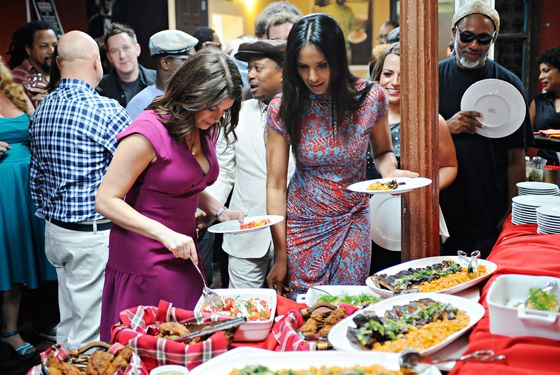 Okay, hurry it along. There are people waiting behind you.Photo: David Moir/Bravo
The editors have their work cut out for them two different ways in the judges' table segment. First, they must make it seem as though all four judges are not blackout drunk, and second, they need to inject some suspense into a situation with only one possible outcome. Patty is definitely going home; on a night when eleven people made expert-level dishes, she seems to have sliced a watermelon and hoped for the best.
The Green Team wins, with Stephanie taking home the trophy. Stephanie smiles. She has a lovely smile. It's really disconcerting to see. The Gray Team is on the bottom, and though they stretch it out for what seems like a full hour, you know what happens: Patty gets the ax. She cries. Of course she does. "I'm not going to pat myself on the back here," she says, and that sounds like a solid course of action for a person who just lost a cooking contest.
Next week, the chefs have to butcher a pig in front of Dr. John, and I don't know which part of that is least appetizing. See you then.