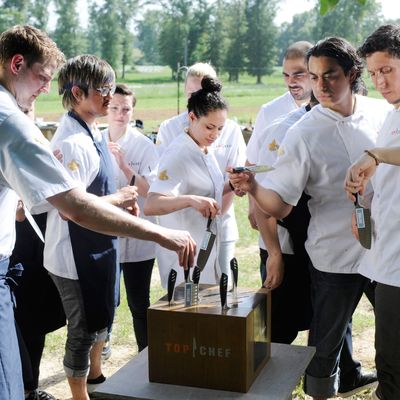 Drawing knives, again.
Photo: David Moir/Bravo
Would you believe me if I told you "suck my dick" were among the first words spoken on last night's Top Chef? Well, I'm sorry, but I rewound it six times and you're going to have to. Nothing so far in this gentle, creeping parade float of a season has prepared us for such aggression — from sweet Salooshian Nina, no less! — but there it is. She opens the episode by complaining about recent knife-packer Michael: "He wanted me to carry his weight, but I was like, Michael: suck my dick." Was someone asleep at the bleep button? Am I watching Top Chef: After Dark? Either way, it's very G.I. Jane. And she continues! "I'm sorry, boo-boo- you're a douche." Now we're cooking with gas, brought to you by Philadelphia Cream Cheese.
Also, am I the first to point out the Tevin Campbell sample in Top Chef's opening credits? That is absolutely his "aw yeah" from "Round and Round" in the theme music, right?
Poor Tevin Campbell has fallen on hard times; I hope he's being properly remunerated. (Even if sample-spotting isn't your thing, watch the video above for a rare gander at Prince's "Graffiti Bridge"–era Rachel hairdo.)
Sara the Riveter thinks her attitude has been "shitty," and I have to agree. She's a pouter, our Sara. But she's determined to turn it around. She's been away from her boyfriend for too long, and she doesn't want to disappoint him. Why, yes, he does wear a Brylcreemed pompadour and they do show an Instagram selfie of the pair of them, why do you ask?
Today's guest expert is Louisiana restaurateur John Besh! He's a good-looking fella, so much so that the Toyota instant-opinion-poll thing immediately asks us: "On a 1 to 10 scale, how great is Besh's hair?" The weird thing is: When they reveal the final answers to all of these questions, they call the result an "average guess." And Top Chef's discerning viewers have guessed that John Besh's coif is a five. So, some lazy product integration is what's happening here.
Tonight, the gang goes on a field trip (in Toyota vehicles) to Lacombe, Louisiana, site of both Besh's acclaimed La Provence and the farm where his restaurants buy their vegetables. And away we go into the Quickfire, wherein the Cheftestants have twenty minutes to whip up a dish that highlights the Creole tomato, indigenous to the region and known for its thin skin and high acid content. (Just like Nina!)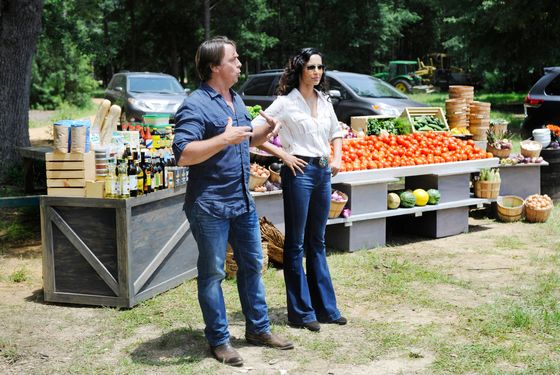 The producers couldn't park the cars somewhere off camera?Photo: David Moir/Bravo
Brian attempts a toad in the hole with the tomato in place of bread, which seems inadvisable, because you can't sop up egg yolk with a tomato. Stephanie eats tomatoes every day but has no idea what to do here. Nina wants to do a watermelon-and-tomato soup, but correctly predicts that it will be gross if it's not ice-cold, and it's a hot summer day. Bene decides to do a soup as well, and everyone's worried because Bene is known as something of a tomato expert.
So! Stephanie does Creole tomato steaks with feta and avocado, and looks like she's about to vomit and cry. Justin does a tomato-skin tartare that seems refreshing. Patty does a salad of some sort that apparently tastes good but looks like garbage. Nina and Louis get good grades for their matching soups, but Nina's stayed colder, so the battle, with its prize of immunity and a vigorous dick-sucking, goes to her.
The Elimination Challenge is to cook a farm-to-table meal incorporating vegetables from the farm … and Philadelphia Cream Cheese. Also, cream cheese is among the only dairy items that can be used, along with fresh milk and cream. And the meal will be served family-style to a squadron of chefs from Besh's New Orleans restaurants. Stephanie is nervous. Stephanie is perma-nervous. Stephanie needs a friend.
There are massive sleeping quarters at La Provence, and the gang makes themselves at home with some billiards and a chef pool party, which is different from a regular pool party in that every shirt is kept on.
So far, I think I'm rooting for handsome Philadelphian Nicholas. Nicholas left his job just before joining the cast, and is about to open his own restaurant. He's a family man, and he looks like he could start crying at any moment. I have no idea what kind of chef he is, because I have only seen pictures of his food, but I would definitely let him be the big spoon.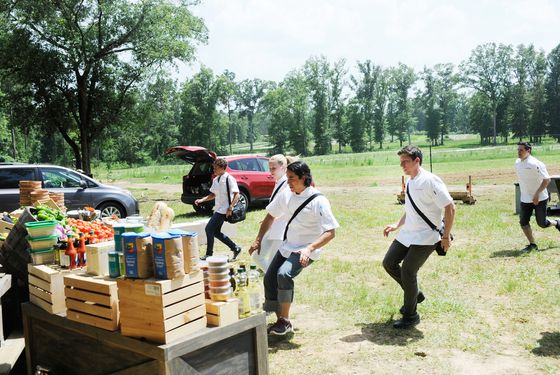 Go!Photo: David Moir/Bravo
The Elimination Challenge begins in earnest the next day. Louis is going for a high degree of difficulty with a homemade graham cracker, even though he's not much of a pastry guy. Travis thinks he's a genius for making a sauce with his cream cheese, which is of course what almost everyone else is doing. Stephanie is on suicide watch. And I start to worry about the judges and Besh's underlings; even if everyone takes one tiny nibble of each dish, that still equates to roughly two bricks of cream cheese per person.
The appetizer gang consists of Patty (snapper crudo with cream-cheese vinaigrette), Brian (summer squash and zucchini tagliatelle with poached oysters and emulsified cream cheese), Carlos (poached beets and pickled carrots with peach, habanero and cream-cheese sauce), Nina (crispy zucchini blossoms stuffed with eggplant and cream-cheese purée, and if you don't like it, you know what to do), and Sara (whose time-management mishap results in a bloody-rare lamb rack stuffed with cream cheese and curry powder). The gang doesn't like Sara's dish. She knows it, and stress eats.
Our entrees come by way of Bene, (who makes roast chicken breast filled with caramelized onions and tarragon cream cheese with some hastily steamed vegetables, and who is kind of getting the loser edit tonight), Carrie (vinegar-braised chicken in cream cheese sauce atop chilled cucumber), Justin (roasted duck breast with eggplant vinaigrette, chanterelles, and corn purée), and Travis (seared lamb chops with Moroccan succotash and cream cheese aioli). Gail calls Carrie's dish "gloopy and soupy," and you just know someone at Bravo suggested that they put up a #gloopyandsoupy chyron but was blessedly voted down. Travis' rough slicing of his chops results in uneven cooking. Justin's duck breast gets the best reviews, but it's still faint praise.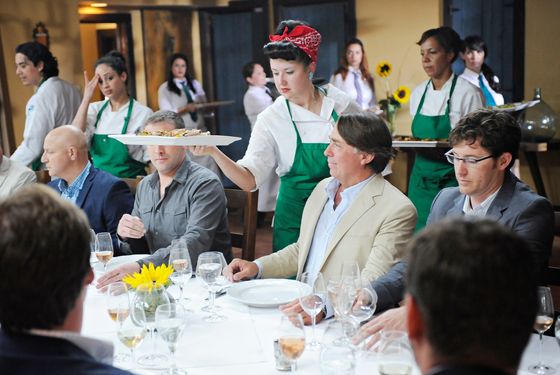 John Besh, and his 5-rated hair.Photo: David Moir/Bravo
So the judges have definitely saved room for dessert: Louis serves his homemade graham cracker with blackberries and cream-cheese mousse. Nicholas had planned to make a beignet, but settled on funnel cake with a spiced-cream-cheese mousse. Shirley does a steamed egg custard with macerated blueberries that looks like a plate of scrambled eggs. And poor Stephanie finally has a reason to be nervous: the mousse part of her cream cheese, peach, and cherry mousse separates right at the end, so all she can do is plate it and hope for the best.
Stephanie does not get the best. Everyone pans her broken-ass mousse, with Tom saying, in the most portentous way possible, "There has to be a story behind this." I'd still eat it.
There is much love for Nicholas's carnival food. Shirley's egg custard gets panned. How did Louis's homemade graham cracker do? Says one chef: "It leaves you wondering what's in your mouth." So: not super well.
Our top three are Justin, Nina, and Nicholas. And even though Nina has immunity and a job, she wins the challenge and $10,000.
The judges hate the uneven nature of Travis's lamb chops, and he sputters: "But I wanted it that way!" How is this guy like this? Are Asian guys less likely to call their boyfriends out on their bullshit? Well, his free ride stops here: He's in the bottom three along with Sara and Bene. Sara basically starts packing her bags. Stephanie vomits with relief.
Padma lifts her head from the judges' table long enough to slur, "The lamb chop I got was not red, it was blue." Gail insists, "Travis's vegetables were miserable." Tom crows, "Bene's vegetables took a detour from farm to table and went to a cafeteria." I want to have a group dinner with these three, and I want it to be at an airport Chili's.
In the end, even though Sara is halfway to the New Orleans Airport, it is Bene who must pack his knives and leave. If I were in charge, I'd have given Travis the boot. So far he's done nothing but talk, and as Tevin Campbell reminds us: Nothing comes from talkers but sound. Perhaps next week. Until then, have a safe and happy weekend, and be sure to suck Nina's dick.