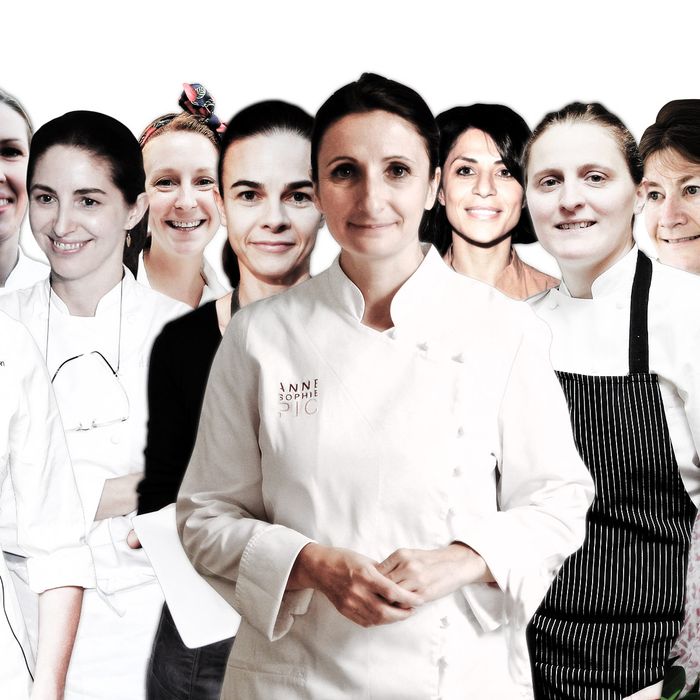 It's time to bow down.
Photo: Joe Schildhorn/BFAnyc.com, VALERY HACHE/AFP/Getty Images, Kevork Djansezian/Getty Images, Neilson Barnard/Getty Images, FRANCK FIFE/AFP/GettyImages, Jimi Celeste/Pmc, Neilson Barnard/Getty Images, GIUSEPPE CACACE/AFP/Getty Images
Yesterday, Time managed to upset most of the food world be unveiling a "Gods of Food" story package that almost completely excluded female chefs. (A few were given perfunctory mentions among the magazine's much larger coverage of male chefs.) The most prominent omission: A chart of alumni from four prominent kitchens around the world that managed to include exactly zero chefs with two X chromosomes. That might have been the end of it, but Time editor Howard Chua-Eoan made things worse in a widely circulated interview with Eater's Hillary Dixler in which he dismissed a number of influential female chefs and said the male-dominated coverage, and specifically the lady-less chart, came about "because men still take care of themselves. The women really need someone — if not men, themselves actually — to sort of take care of each other." The worst part: Chua-Eoan says Time's editors "did not want to fill a quota of a woman chef just because she's a woman. We wanted to go with reputation and influence." The statement is absurd, of course, because there are a number of chefs with fantastic reputations and wide-ranging influence who also just so happen to be women. In fact, here is a small sampling.
Alice Waters
Restaurant: Chez Panisse, Berkeley
Why: Waters pioneered the slow-food, farm-to-table, organic food movement, changing the way we eat and think about environmental sustainability. She's won plenty of awards for her cooking (the World's 50 Best Restaurants' Lifetime-Achievement Award, James Beard's Best Chef in America), and has mentored or influenced Dan Barber, Judy Rodgers, Mark Peel, Suzanne Goin, and April Bloomfield. Few chefs have done as much to change the way America eats as Waters, and she's as much an activist as she is a restaurateur: Waters founded the Edible Schoolyard, a public-education model that serves 2,000 schools in 50 states, and she's also the vice-president of Slow Food International.
Elena Arzak
Restaurants: Arzak, San Sebastián, Spain; Ametsa, London
Why: She's the joint head chef of Arzak, the three-Michelin-starred restaurant that she runs with her father. Arzak's honored her family's traditions while pushing the New Basque movement forward with modernist techniques. The food that comes out of her kitchens is gorgeous — and one of the primary examples people point to when discussing food as art.
April Bloomfield
Restaurants: The Spotted Pig, the Breslin, the John Dory Oyster Bar, Salvation Taco, New York; Tosca Café, San Francisco
Why: She's done as much to change New York's restaurant scene in the last decade as any chef (the oft-cited David Chang included): The Spotted Pig jump-started the modern gastropub movement, and Bloomfield's gutsy cooking style is iconic among nose-to-tail practitioners.
Anne Sophie-Pic
Restaurants: Maison Pic, Drôme, France; Restaurant Anne-Sophie Pic, Lausanne, Switzerland; La Dame de Pic, Paris, France
Why: With no formal culinary training, Sophie-Pic took over the family business in 1997 and managed to regain Maison Pic's three Michelin stars, which the restaurant lost following her father's death. She's the fourth female chef ever to win three Michelin Stars, and was named the Best Female Chef in the World in 2011. Sophie-Pic's renowned for her breathtaking presentations and surprising flavor combinations that show up in dishes like turbot with jasmine, veal sweetbreads with lavender, and lobster with strawberries.
Dominique Crenn
Restaurants: Atelier Crenn, San Francisco
Why: In the nineties, French-born Crenn made culinary history as the first-ever female executive chef in Indonesia. She opened Atelier Crenn in 2011 and became the first woman in America with a two-Michelin-starred restaurant. Her concept is daring and avant-garde (the menu is literally poetry), and it's considered one of the top fine-dining destinations in the country. Beyond her cooking, Crenn advocates for a culture of respect in the kitchen.
Christina Tosi
Restaurants: Momofuku Milk Bar, New York and Toronto
Why: Regardless of your feelings on cereal milk, Tosi, the 2012 James Beard Rising Star Chef of the Year, has arguably influenced more pastry chefs than anyone else in the last few years. By combining a modernist skill set — she worked at wd~50 — and the flavors of her favorite childhood junk food (cornflakes, pretzels, and, yes, lots of cereal), she's shown that throwback desserts might really be the future of pastry.
Judy Rodgers
Restaurants: Zuni Café, San Francisco
Why: Rodgers believes that simple food's often the best, and Zuni Café's an inspiration for countless casual, locally sourced American restaurants. She's received several James Beard awards, the Zuni Café Cookbook is universally loved, and she makes what many people consider to be the world's greatest-ever roast chicken.
Clare Smyth
Restaurants: Restaurant Gordon Ramsay, London, England
Why: While Gordon Ramsay runs around acting like a maniac on reality shows, Smyth actually runs the crown jewel in his restaurant empire — and her modern French cooking has made her the first female British chef to hold three Michelin stars. That's not all: Earlier this year, Queen Elizabeth II appointed Smyth a Member of the Order of the British Empire.
Gabrielle Hamilton
Restaurants: Prune, New York
Why: The 2011 James Beard Foundation winner for the title of New York City's best chef and the author of what is arguably the best food memoir of all time may be humble about her restaurant, but the fact of the matter is that nobody was making personal, intimate food like Hamilton's when she opened Prune in 1999. But fourteen years later, the restaurant's cozy feel and no-pretense approach has been replicated time and time again, in New York and beyond.
Suzanne Goin
Restaurants: The A.O.C., Lucques, Tavern, the Hungry Cat, the Larder, Los Angeles
Why: It's easy to forget that a wine bar with small plates wasn't always the norm: Goin helped popularize that restaurant model by opening A.O.C. She's rightfully won countless awards for her French cooking — plus consecutive nominations for the James Beard Foundation's Outstanding Chef of the Year from 2008 to 2011. Her empire's only growing: Goin recently reopened A.O.C. in a new space, released her second cookbook, and is expanding the Larder. And, as Eater's Dixler pointed out to Time's Chua-Eoan, Goin trained in the kitchen of Alain Passard, a simple fact that should have gotten the popular, much-loved chef included on the alumni chart.