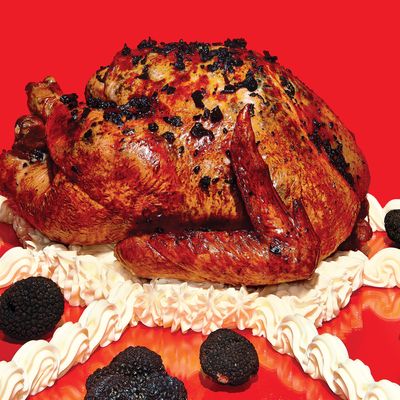 Slow-roasted turkey in black-truffle butter.
Photo: Bobby Doherty/New York Magazine
For this year's holiday food special, New York culinary editor Gillian Duffy gathered recipes from some of the city's top chefs (including Michael White, Paul Liebrandt, and Amanda Cohen) to create a complete Thanksgiving menu two ways: a truly gluttonous spread for those looking to indulge, and a Mediterranean-style meal for the butter-phobes. Click through the gallery ahead for the recipes, mouth-watering photos of all the dishes, and notes from the chefs about their creations. (For the impatient, all recipes are linked below too.)
The Decadent, Butter-Drenched Feast
Serves 8
Appetizer:
• Curry Squash Bisque with Jumbo Lump Crab
Entrée:
• Slow-Roasted Turkey in Black-Truffle Butter
Sides:
• Black-Truffle-and-Bone-Marrow Bread Pudding
• Potato-Celery-Root-Fontina Gratin
• Brussels Sprouts with Creamy Bacon
Dessert:
• Pumpkin-Mousse Pie
The Virtuous, Olive-Oil-Based Feast
Serves 8
Appetizers:
• Shaved-Brussels-Sprout Salad With Roasted Brussels-Sprout Leaves, Pecorino, and Pears in a Honey-Dijon Vinaigrette
• Zucchini, Apple, and Sage Latkes With Poached-Apple Yogurt Sauce
Entrée:
• Whole Roasted Salmon With Preserved-Lemon, Caper, and Dill Sauce
Sides:
• Wilted Kale With Butternut Squash, Raisins, and Clothbound, Aged Sharp Cheddar
• Corn Salad With Red Peppers
• Sweet-Potato Wedges With Rosemary and Mustard Seeds
Dessert:
Pavlova With Dates and Pears
*This article originally appeared in the November 18, 2013 issue of New York Magazine.