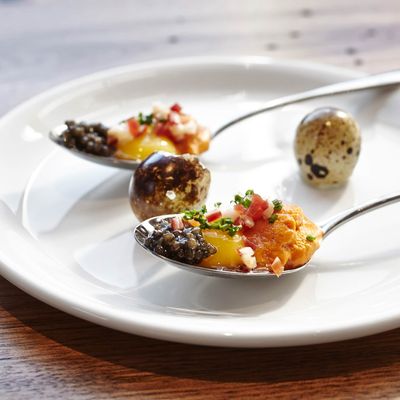 Sutton notes that New York's Toro is more expensive than Boston's.
Photo: Melissa Hom
This week, Adam Platt awarded the Korean- and Italian-influenced food at Piora two stars for "different and sometimes competing tastes," and Icelandic new comer Skál one star for its "merry vibe" and "tasty house cocktails." Meanwhile, Pete Wells reviewed two sushi establishments while both Ryan Sutton and Daniel S. Meyer checked out some of New York's latest restaurant imports. Read it all, straight ahead.
Pete Wells filed two sushi-centric reviews this week, resulting in two stars for Sushi Dojo in the East Village and one star for Kurumazushi in Midtown. Although Sushi Dojo would likely earn a "heartfelt welcome to the neighborhood even if the food didn't stand out" thanks to "high-sheen, poppy, neo-disco" being "played at a humane volume," the sushi is "worth getting crazy for." Stand outs include: arctic char ("jolted with lemon"), local striped bass, "glistening golden-eye snapper," and a "yellowtail belly that melted like whipped lard." Plus: The lengthy menu of cooked food "is more than respectable … if this kitchen fried it, you want it." Kurumazushi, which was given three stars by former Times critic Ruth Reichl, does offer some "extraordinary tastes," such as "very sweet" squid and a hand roll of fatty tuna and scallions that made Wells "forget how to speak for a minute or two." But overall, the "cheerless" front dining room and steep prices — $300 for an omakase that featured rice "so in need of seasoning that it erased the flavors of the fish like blotting paper" — failed to truly impress.
Ryan Sutton gave two stars to Toro, Ken Oringer's Boston tapas import. Although the prices are noticeably higher in New York, "Toro 2.0 is pretty great, operating just a notch or two" under some of "New York's best tapas spots." The pricey menu is rife with hits, especially for those interested in Toro's embrace of "unusual edibles." Morrocan-spiced blowfish are just "as irresistible as Buffalo wings," shredded sea cucumbers are "worth every penny," and the"brilliant" spaetzle and cod tripe stew "tastes like SpaghettiO's infused with sea water." Sutton is also a fan of the reasonably priced wines-by-the-glass list, which encourages "diners to choose by preference, not by price." Just be sure to avoid the "soggy mop" that is the abalone, the "forgettable" luxury items, and the skirt steak with red onion marmalade — "a cloying crime against cow."
Daniel S. Meyer also reviewed another transplant restaurant, Han Dynasty. "The most beloved hometown franchise since the Rocky movies" lived up to expectations. The appetizer menu is filled with excellent plates such as spiced chicken wings ("sublimely crunchy"), dan dan noodles that "justify the hype," and "delicate" pork wontons. Entrées, like the double-cooked pork belly, are unfortunately "mostly just passable." Regardless, Han Dynasty "lands enough punches to win" itself a spot in the "NYC Szechuan rotation." Three stars.
Amelia Lester of The New Yorker made her way to Marco's, the "fancier and more expensive" venture from the team behind Franny's. The restaurant is "both rustic and refined," and "exemplifies how much Brooklyn dining has changed" since the mid-eighties. Like its parent restaurant, "each ingredient has been carefully chosen and is showcased simply." Although a meal at Marco's can "feel hectic," there is much to be happy about: Must-order dishes include the excellent spit-roasted pork loin, wood-grilled lamb, a "spectacular" tagliatelle, and a mustard-greens salad topped with shavings of bitto — a cheese from "the alpine meadows of Lombardy" that is "so creamy it makes Pecorino look like an ugly stepsister."
Zero Otto Nove is an "old-fashioned Roman trattoria on Arthur Ave." that "hits all the right culinary notes" for Michael Kaminer of the Daily News. The menu is "old-fashioned in the best sense" and is a "solid reminder of how classics get that way." While the grilled portobello mushrooms topped with a "heap of subtle goat cheese" and the "honest and intensely comforting" linguine alla puttanesca were excellent, Kaminer was perhaps most excited about the "courteous, shirt-and-tie-clad waiters unencumbered by ironic flannel or twirly mustaches." Overall, three out of five stars.
Steve Cuozzo did not write a restaurant review this week, instead filing articles on his top five favorite old-school steakhouses and nine new ones worth trying. Joshua David Stein and Alan Richman also did not file reviews this week.