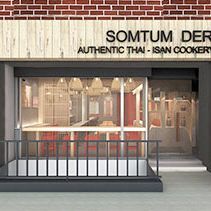 One star.
Photo: Courtesy of Somtum Der
This week, New York's Adam Platt reviewed Ken Oringer and Jamie Bissonnette's "stolid new battleship of a restaurant," Toro. He enjoyed the pan con tomate, uni-filled bocadillo de erizos, and the "beautifully charred" $90 bone-in rib eye, awarding it two stars. Elsewhere, Pete Wells ate Thai food in the East Village, while Amelia Lester found Charlie Bird to be quite pleasant. Read it all, straight ahead.
Pete Wells visited one of the East Village's newest Thai joints, Somtum Der, and awarded it one star. Its namesake dish, soma tum, a papaya salad, is "exhilaratingly spicy" and the "star attraction" of the restaurant. The menu offers up eight versions and Wells emphasizes ordering the rendition with "rock-hard miniature crabs" and "intensely funky fermented fish sauce — it's the most complex." Other hits: chopped duck and pork larbs, sardine-and-mint salad, sundered beef and pork with fried Kaffir lime leaves, and the Isan sausage and pork roll. Just be sure you can handle heat, the "four-chile" dishes, while delicious, will at one point render you "incapable of doing anything but sweating, squirming, and trying to blot your tongue with rice."
Ryan Sutton is a fan of the cool-kids' omakase at Sushi Ko, where "reggae pipes out through the sound system" and a guy in a T-shirt uses a blowtorch to apply soy sauce. The eleven-seat restaurant specializes in uni, using it sweeten scallops and pair with salmon roe. This isn't diet sushi: "[John] Daley likes to double down on fat," writes Sutton. "He takes a slice of toro (fatty tuna) and sears it over a wire mesh strainer, letting the lardo-like drippings rain over a chopped mound of more crimson toro … And chu-toro (medium fatty tuna) is served over rice and a bit of uni; Daley calls this creation "Chu-ni" and it's as awesomely gratuitous as finishing your porterhouse steak with butter." Three stars.
The New Yorker's Amelia Lester filed a review of Soho's Charlie Bird, where she was impressed by the "real commitment to service" and the "comforting" food. Although it's expensive ("paying less than a hundred dollars a person is difficult') and the music is loud ("it's difficult to be heard above the newest Justin Timberlake album"), there are some seriously good dishes. The roast-chicken dish with a "charred leek ricotta" is something that "encourages repeat visits," the pounded veal chop is perfectly crunchy, and the veal-ragu rigatoni is "warming and hearty." Also worth ordering: the "modest list of classic cocktails not often seen."
Daniel S. Meyer checked out the new tenant of the Franny's space Marco's. While the "beloved pizza oven" of its predecessor was nowhere to be found, its replacement, a "shiny, wheel-cranked wood grill," churned out noteworthy dishes like lamp chops with "heady smoke and finger-licking char." Other must-orders: fried egg with pumpkin and fried sage, charred leeks with anchovies, and "seductively chewy bigoli noodles spiked with salty fish." All that was missing? Some bread to "sop up" the dishes.
Michael Kaminer awarded four stars to the Cecil, which "feels both polished and charming in ways that take other places years to master." Oxtail dumplings "manage to harmonize disparate elements that span food traditions," while Roasted Poussin Yassa ("beautiful miniature chicken, served whole, practically bathing in bourbon-tinged dried fruit and resting on coconut sticky rice and sea beans") is the menu's "knockout."