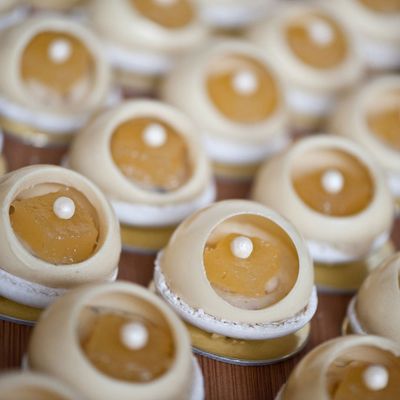 Quite frankly, we don't think you're ready for this jelly.
Photo: Rogerio Gomes
The proprietors of the ever-expanding Smorgasburg recently established an exchange program with their counterparts from Brazil's Feirinha Gastronomica. It started a few weeks back with 700 ramen burgers and a mob scene in São Paulo, and now modernist pastry chef Lucas Corazza is in New York to sell some desserts. He was able to borrow some choice production space in the new Roni-Sue's Chocolate kitchen on Forsyth Street, and is at this moment prepping a number of pastries for the weekend, including banana-milk-chocolate brownies and tonka-bean ganache, and a Brazilian-grape-and-matcha cake topped with white-chocolate mousse. Corazza, who is somewhat obsessed with New York cheesecake, is also selling a seasonally appropriate chocolate-and-pumpkin cake, but the bizarro, UFO-looking thing above is worthy of a mention of its own.
Corazza calls it a "Royal." It's got a macaron base and a 35 percent white-chocolate dome (made by Brazilian company Harald). Inside the dome, there's a sort of brigadeiro made with Brazil nuts, and a square of jelly made from cupuaçu fruit, a kissing cousin of cocoa that allegedly tastes like chocolatey pineapple. All ingredients come from Brazil, which is cool, and they're certainly not things you get to eat every day.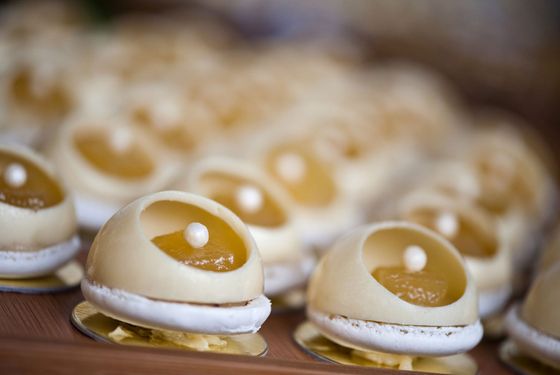 It' like a white-chocolate oyster, with a pearl, but from space.Photo: Rogerio Gomes

Corazza's Royal will costs $7, and will be available at both Smorgasburg markets this weekend.