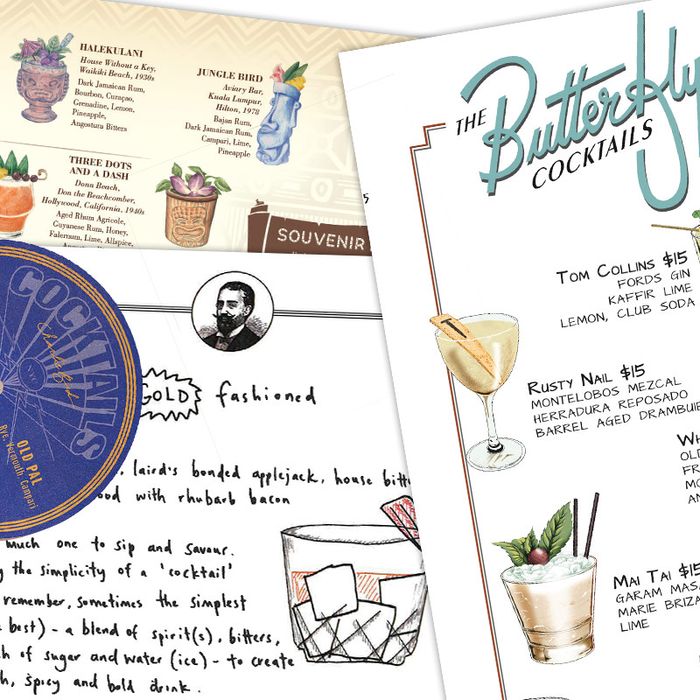 Illustrations are big these days.
We imbibe in a world of erudite and skilled bartenders, where generic well liquors are eschewed in favor of small-batch spirits, and scores of new cocktails get invented every single week. But as drinks have gotten more complex, so have cocktail menus: dozens of choices, sections devoted to historical narratives, or graphs delineating each drink's flavor profile. The simple act of ordering a drink, once a two-second exchange with a bartender — "I'll have a Manhattan, up" — can now eat up far too many minutes. One can't blame new bars for wanting to set themselves apart by putting out distinctive menus, but finding that right balance of utility, information, originality and style can be tricky. Here are seven that, through very different methods, all get it right.




Trick Dog, San FranciscoKey Attributes: CreativityNo bar in America produces cocktail menus with more flair and wit than Trick Dog, the year-old Mission District haunt. The opening menu was a stunner: Designed like a Pantone paint wheel, it fanned out in a semicircle, with each card devoted to a single drink. The bar's current menu (the design changes every six months) is even more impressive. Fashioned as a catalogue of vinyl 45s, each platter outlines a new drink, with ingredients listed right on the records. For both menus, the drinks were reverse-engineered from the names: The owners selected Pantone paint varieties (Alligator Alley, Straw Hat) and hit singles ("Goldfinger," "Eye of the Tiger"), then devised drinks to go with the monikers. "We knew we wanted to do a fun menu," said Scott Baird, one of the partners, who is a big fan of bars whose cocktail lists "are able to communicate clearly to the guest who they are and what they are." One downside of creating such cool lists: Customers like them too much. "People stole them a lot," Baird said of the Pantone wheels.





Henry, Hudson Hotel, New YorkKey Attributes: PersonalityThe visual aspect is often neglected in the creation of cocktail menus. But for the customer, nothing cuts through all the verbiage more swiftly than an illustration of what they're getting for their $14. Ryan Chetiyawardana, the London drink whiz who concocted the cocktail program at Henry, the new bar inside midtown's Hudson Hotel, went to art school, and it shows in his debut menu. Each cocktail is accompanied by Ryan's own sweetly primitive illustration of the libation, with handwritten descriptions of each drink. The hand-rendered quality lends a playful air to the menu.





The Butterfly, New YorkKey Attributes: NostalgiaThis four-month-old Tribeca restaurant famously draws on Wisconsin supper clubs for its culinary inspiration. So for its cocktail menu, bar director Eben Freeman riffed on the colorful place-mat menus that were once common in such dining halls. More than kitschy artifacts, Freeman realized such lists were prevalent for a good reason: They work! "It gives the guests an idea of what the drink is going to look like," said Freeman. "It's easier and faster. You need people to make decisions quicker." For the illustrations, he didn't use old graphics, but hired storyboard artist Joe Guilette to created drawings that resembled Freeman's actual variations on the martini, Rusty Nail and other classics.





Three Dots and a Dash, ChicagoKey Attributes: ConcisionSimilar to Freeman's approach at the Butterfly, Paul McGee of Chicago's new tiki bar Three Dots and a Dash returns to the classic historical model of a tiki menu, with each drink accompanied by a colorful illustration and a quick rundown of the ingredients, accented by some vaguely South Sea fonts. Moreover, the menu is only two pages long, with classics on the left, and modern creations on the right; no flipping through a Polynesian catalogue. A historical treatise on tiki-drink culture is mercifully brief. And the bar's collection of more than 200 rums are smartly contained on a separate list that customers may ask for.





Billy Sunday, ChicagoKey Attributes: LegibilityMany cocktail bars inexplicably opt for small print and darkly hued pages. (Tavern owners: Bars are dark and people are drinking; do not make us squint!) Not Billy Sunday in Chicago's Logan Square neighborhood. Owner Matthias Merges has said that he was inspired by the newsprint-style typefaces of the twenties and, indeed, the menu screams at you like a five-star headline with drink names in bold, black, block letters. To someone on their third stop of a night-long bar crawl (or even their third drink of the night), the black-and-white clarity of it all defogs the mind instantly.





Kask, Portland, OregonKey Attributes: ClarityKask, a bar adjacent to the Austrian restaurant Grüner, knows how to chop up a cocktail list. Every two-page fold of the menu is devoted to one spirit category, and for additional clarity, the section headings remind you of what, exactly, you are drinking: rather than "Gin," "Tequila" or "Rum," they say "Juniper," "Agave" and "Sugar Cane." To the left are brands of the spirit that can be ordered straight. On the right-hand page are cocktails made with that spirit, divided between shaken and stirred libations. It all breaks down so nicely, your brain makes sense of it almost immediately. And as a grace note, the bottom of each section is adorned with a humorous quote about the elixir in question. ("Don't talk to me about Naval tradition! It's nothing but rum, sodomy, and the lash" —Winston Churchill.)





Charlie Bird, New YorkKey Attributes: UtilityCharlie Bird, in Soho, is a restaurant, not a bar, but it's nevertheless got one of the most wittily pared-down cocktail menus around. The small, circular list is designed to look like the label of an LP. There are five drinks only, with just the bare minimum of information — no fat, and plenty of humor. It's also the ultimate in functionality. Once your drink arrives, the menu becomes your coaster.