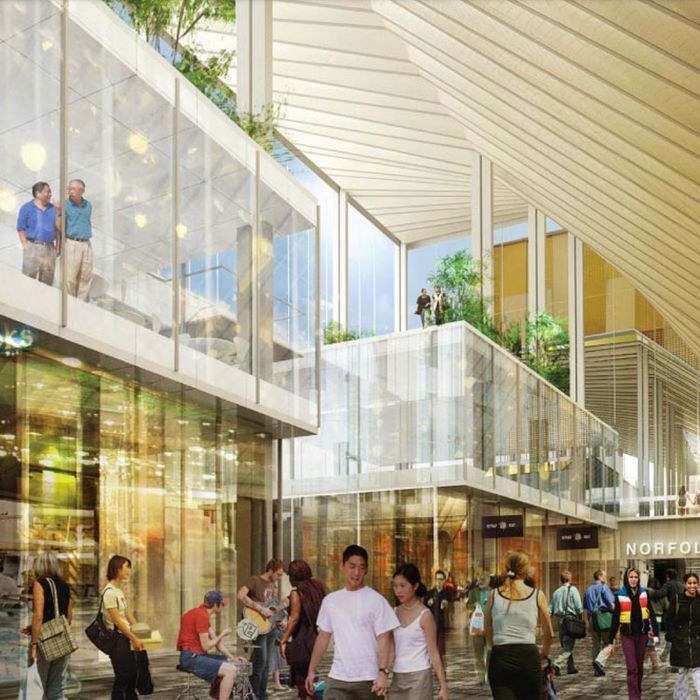 Behold the "Market Line."
Photo: Courtesy of Essex Crossing
It looks a lot like plans for Essex Crossing, the "unprecedented development" set to transform what was once the Lower East Side, are moving ahead. Six weeks after Bloomberg announced plans for the long-abandoned six-acre Seward Park Urban Renewal Area, the Lo-Down has a few more details on the steel-and-glass complex.
Notably, food-related plans include replacing the existing 80-year-old Essex Street Market with something twice the size and across the street. The NYC Economic Development Corp. reiterated at the meeting that all market vendors will be invited back into the new facility.
There's also a massive supermarket in the works, an incubator space for food businesses, and the "Market Line," a 90,000-square-foot sub-grade space designed "to mimic the better markets you see anywhere in the world," according to one of the developers. (Smorgasburg is named a "key tenant" in promotional material.) And, of course, because no renewal project would be complete without one, Essex Crossing will also have an urban rooftop farm. If all goes as planned, construction will begin in 2015.
Seward Park Developers Create Web Site, Detail Essex Crossing Plans [Lo-Down]