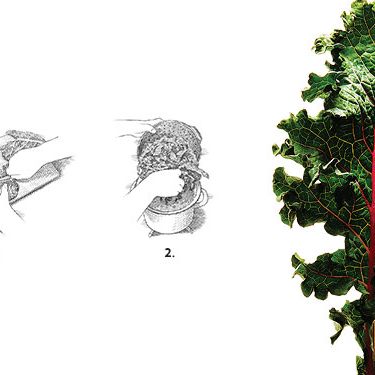 Photo: Bobby Doherty/New York Magazine; Illustrations by John Burgoyne
No one knows precisely how kale conquered New York, if not the world, but there is no question that the leafy green has irrevocably gone, as vegetable raconteur Nigel Slater puts it, "from a food of poverty to one of supreme trendiness." It's pretty, too—especially the rainbow lacinato variety, a cross between bubble-wrappy cavolo nero and the hardier, more frost-resistant Redbor. It takes well to this riff on creamed spinach from Quality Italian chef Scott Tacinelli, who offsets its health-giving properties with a thick béchamel, guanciale (cured pork jowl), and egg yolk.
Scott Tacinelli's Creamed-Kale Carbonara
2 1/2 bunches rainbow lacinato kale (or any other variety)
Salt
1/4 pound guanciale, ground or finely diced
1/4 pound butter
1 shallot, sliced
2 cloves garlic, sliced
2 tbs. all-purpose flour
1 cup heavy cream
1/4 cup crème fraîche
1 1/2 cup chicken stock
1/2 cup Parmigiano-Reggiano, plus more for garnish
Freshly ground black pepper
4 egg yolks
(1) With a ­paring knife, remove the stems from the kale by trimming along each side of the stem. (2) Bring a large pot of salted water to a boil, add the kale, and cook until soft. Remove from the pot, and plunge into a bowl of ice water to cool. Strain the kale, and squeeze out excess water, then roughly chop the leaves into bite-size pieces. In a skillet over medium heat, cook ­guanciale ­until most of the fat is rendered and the meat begins to turn brick red. Remove from heat and strain, reserving the rendered fat and cooked guanciale separately. In a large sauté pan or pot, heat the reserved fat and butter over medium heat. Add the sliced shallot and garlic, and cook ­until the shallots are translucent. Add flour, and cook for 5 minutes, whisking constantly, until flour turns a light-golden color. While whisking, slowly add in cream, crème fraîche, and chicken stock, bringing to a simmer. Add the cheese, and whisk until fully incorporated. Stir in the kale, and mix well. Season with salt and pepper. To serve, place creamed kale in 4 bowls. ­Create a well in the center of each, and fill with an egg yolk. Garnish with pepper, cheese, and guanciale. Mix egg yolk into the kale before eating. Serves 4.