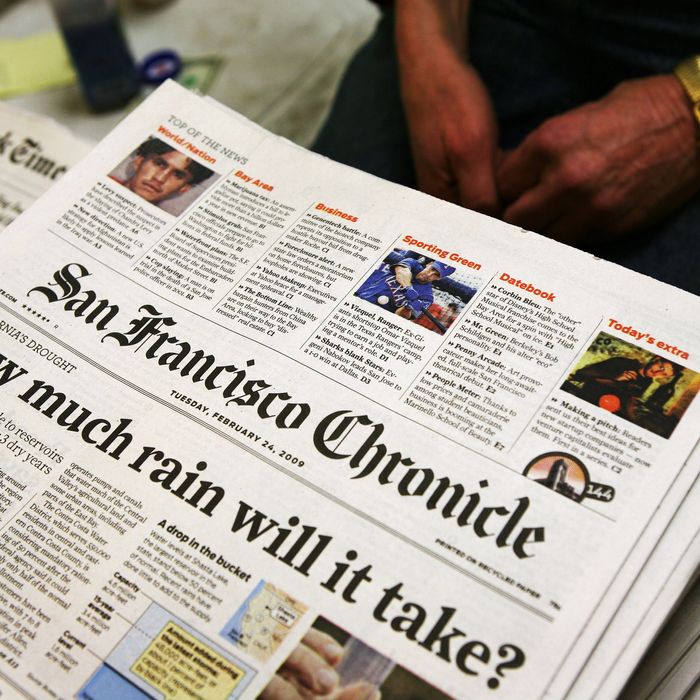 Photo: Justin Sullivan/Getty Images
The New York Times is reporting that while the move has not yet been announced publicly, the San Francisco Chronicle will end its long-running stand-alone Food section by February of 2014. Plans exist to combine that coverage into a more general lifestyle-based section, which the Times reports is tentatively called "Artisan." Speaking anonymously, Chronicle staff members say that they had recently been informed by president Joanne Bradford that the food section was no longer "sustainable" on its own; meanwhile, the same staffers say they'd not been informed about any marketing research indicating as much. Assuming the news is all true, how loud of a death knell for food writing is this, exactly?
The Chron's food coverage, after all, is one of the most lauded sections of its kind, winning accolades from the Association of Food Journalists several times. It has also been honored four times with the Best Food Section award from the James Beard Foundation.
The Times reports that no layoffs will be made when the merge occurs — writer and editor Michael Bauer included — but notes the former food section's staff will be relocated to a new office, where "no more recipe testing" will take place. Because no announcements have yet been made, it is unclear it the restructuring will affect the Chron's food blog, Inside Scoop SF.
Update: San Francisco Chronicle managing editor Audrey Cooper has posted a statement online which reads, in part,
We are reinvesting in this coverage, exploring ways to have it more deeply permeate the entire newspaper while making all newspaper sections even more modern and relevant. We are undergoing a newspaper-wide section-by-section review with the idea that we need to reimagine sections to more intuitive cultural topics that are more aligned with how Northern Californians think and live.

We are exploring several opportunities, testing them with readers and conducting independent research to make sure we're delivering what our customers need and want. Once we decide on a path, we will make sure to celebrate it — just as we celebrate the amazing Northern California food culture.

I'd love to tell everyone right now what we're going to do. The truth is that we haven't decided it yet. But I can tell everyone unequivocally that our top priority is to continue doing the nation's best coverage of Northern California food and wine coverage.


San Francisco Chronicle Plans to End Its Prized Food Section [NYT]