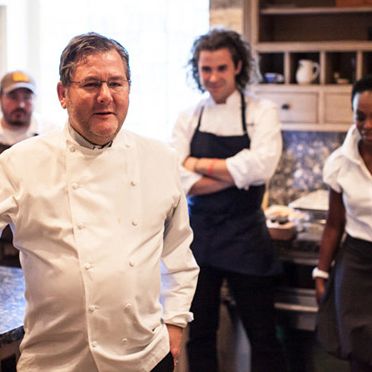 Charlie Trotter, Sean Brock, Maxime Billet, and Rochelle Trotter
Photo: Galdones Photography
The food world is still reeling from the surprising news that legendary chef Charlie Trotter passed away at his home yesterday: His son Dylan reportedly found the chef unconscious around 10 a.m. and attempts to revive him were unsuccessful. Late yesterday, Trotter's wife Rochelle released a statement through a spokesperson to address the incident.
We are incredibly shocked and deeply saddened by the unexpected loss of Charlie at our home in Lincoln Park. He was much loved and words can not describe how much he will be missed. Charlie was a trailblazer and introduced people to a new way of dining when he opened Charlie Trotter's. His impact upon American cuisine and the culinary world at large will always be remembered. We thank you so much for your kind words, love and support. We appreciate the respect for our privacy as we work through this difficult time. Details for the memorial service will be forthcoming.
Not much else is known this morning regarding the circumstances of Trotter's death, but an autopsy is reportedly scheduled for today.
Earlier:Charlie Trotter Has Died