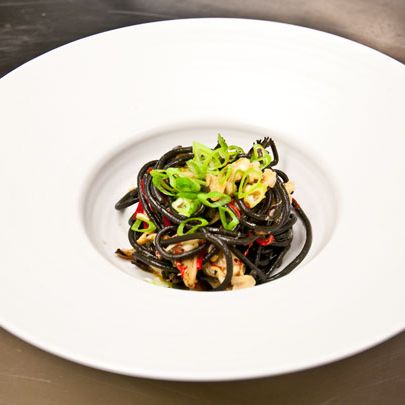 Wells says order Piora's pasta.
Photo: Sarah Silberg/New York Magazine
The Underground Gourmet awarded the "homey, inviting, sort-of-new restaurant" Martha four stars this week. Other happy critics include Steve Cuozzo, who enjoyed Villard Michel Richard, and Hannah Goldfield, who found Skál "enchanting." Read it all, straight ahead.
Pete Wells filed a two-star review of Piora in the West Village, writing that the "soothing" restaurant "has been put together with intelligence and taste." He likes Chris Cipollone's carrots, "roasted in ham fat until they collapsed into their own sweetness," which are served atop a "ham snow" with tangy white yogurt. Other hits: the octopus ("fearless use of gochujang"), black garlic bucatini with crab and maitake mushrooms, and toasted hazelnuts "with crisp bits of caramelized sunchoke" that remind him of granola. He recommends that, until Piora hires a proper first pastry chef, you skip dessert.
Alan Richman checked out a West Village café owned by nutritionist Marissa Lippert, Nourish Kitchen + Table. The ever-changing menu includes a few sandwiches, earthy grains, salads, and proteins. He liked the Sabah quinoa salad and the pastries (like the "extra moist" kuchen), but wasn't as fond of the "modest assemblage of red meat, chicken, or fish." One star.
The New Yorker's Hannah Goldfield scoped out New York's latest Nordic import, Skál, where she found the interior modeled after "the grass-covered cottages" of Iceland to be "surreal." The menu, which is based around "ingredients that store well, and grow better in colder climates," includes standout dishes like the raw beef mixed with clams, crispy lamb tongue, and boudin blanc. She finds the restaurant "enchanting."
Steve Cuozzo awarded the Palace Hotel's Villard Michel Richard two stars. The restaurant's fancy digs make it look "as if even a cup of coffee should cost a fortune," but pleasantly, "most entrées are in the $20s." The menu, which "reflects [Michel] Richard at his casual best," is chock full of palate pleasers: a beet salad that feels "new," corn-battered cod, and a juicy burger. Richard's "enormous French and American desserts make for a happy ending."
Joshua David Stein returned to Keith McNally's Schiller's Liquor Bar to revisit the restaurant ten years after it first opened. Turns out that "Schiller's on a Friday night in 2013 is 95 percent of what's Schiller's on a Friday night in 2003 was," with tables still "so close they look they're humping." It's "always about the scene," but "whether its mediocre food is executed excellently, however, is fair game." Classics such as the garlic shrimp and the steak frites are still quite good, but nachos are made from "dry, joyless chips" and cauliflower looked and tasted much like a "biopsied brain." Two stars.
Stan Sagner filed a glowing review of Bunker, awarding the Queen's restaurant three stars. The flounder bánh mì give the "best po' boy a run for its money." Other hits: coconut ribs ("its flavors are stark and delicious"), and the vegetarian banh xeo, which make the trek to the restaurant "past a cemetery, and literally patches of broken glass" totally worth it.