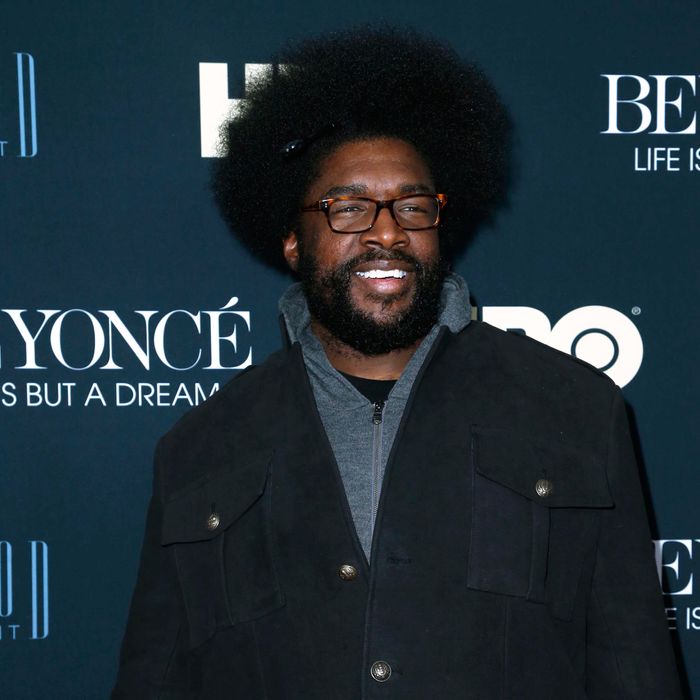 Oh, okay.
Photo: Jimi Celeste/PatrickMcMullan.com
We're still trying to figure out what, exactly, caused the sudden closing of Stephen Starr and Questlove's Hybird, but today the Roots drummer and crispy-fried-drumstick-preneur has posted a sort of 800-word explanation of what he thinks went wrong at the Chelsea Market stall. The bad news is that it's tougher to unpack than a late-period Ezra Pound poem.

"[I] too dreamed of sushi or techno emotional cuisine in the same vein as dreaming of new breakbeats or organizing harmony," Questlove says, after warming up with a riff on creativity ("I'm about nothing if I'm not about ideas"). He goes on to explain part of the genesis of the restaurant came from being friendly with chefs.
A few paragraphs later, Questlove obliquely says the decision to close the joint project with Starr was mutual ("my foodie partner (starr) and i have killed the lofty idealized hybird") because it flew too close to the sun, like some hormone- and antibiotic-free Icarus, or something. He continues:

after a lifetime of balancing art and commerce i find myself once again at the fork knife and spoon in the road. and unlike my other jobs this venture isn't survival based (as you know… "I be riding around and getting it"). if anything its from the heart (my real one) and it's not satisfying that heart it's not satisfying at all. and so bye bye birdie. chicken, scratched. the killing was kinda akin to throwing your pretty, witty, emo daughter under the bus …. well …. because she's a pretty, witty, emo chick who's become taken w/ dancing at the edge of a fiscal cliff. (say what say what say whuuuut?). thing is.. the gentle curves of daughter's arabesque looked far more graceful portending ruin (well, as my biz manager would say "diminishing returns") then they looked selling out (or outright selling. luck be a lady after all right?). at the end of the day, the "poor sales" were turning the corner, but the girl was getting left behind (so what ensued? think hilary swank in that million dollar baby joint … more on this miss later).
So there you have it — the takeout shop just wasn't turning a healthy profit. The Facebook post, by the way, is only "part one of my grubby missive," Quest writes. All of this to say (we think) that Hybird may be closed, but the dream of Hybird is alive and well in Questlove's heart (we're almost sure about this). "Stay tuned for part the deux, deux (I'll be back but for now just seckle)," he writes, and we will.
To Get To The Other Side [Ahmir Thompson/Facebook]
Earlier: Questlove's Hybird Closes in Chelsea Market