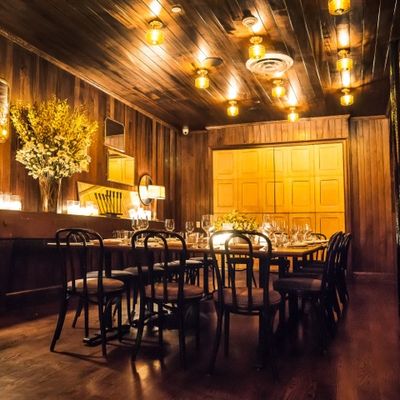 One of Lafayette's two secluded spaces.
Photo: Noah Fecks
As the holiday season approaches in New York, it can only mean one thing: Lots of big group meals. You could convince a restaurant to put some tables together in the main dining room, or you could hook your group up with its own private-dining space. Luckily, some of the best new restaurants in town are also outfitted with secluded sanctuaries — and they don't (all) cost a fortune to reserve. Here are some of the top new spaces in the city, arranged by potential capacity so you can find the perfect fit.
Piora
Size: 8 seats
Price: À la carte
In a small room between the bar and the main dining area that's separated by glass, Piora serves groups of six to eight diners. It's an elegant space: The walls are made from reclaimed teak and and the tables from African walnut. But although it feels fancy, there aren't any ordering requirements.
American Cut
Size: 12 seats upstairs; 50 seats downstairs
Price: Minimum expenditure of $2,500 or $7,500
This flashy new steakhouse has not one, but two private spaces. While you can arrange for food to be served à la carte, the smaller upstairs room requires that you spend a minimum of $2,500, and downstairs, you have to hit at least $7,500. That's only 250 or 750 carrots, respectively.
Charlie Bird
Size: 14 seats
Price: $125 per person
Charlie Bird's private room is actually a converted studio apartment, and it's totally secluded with its own entrance, private bathroom, and sound system. It's expensive, but chef Ryan Hardy works with guests to create a customiz family-style meal with off-menu dishes, like a whole roasted pig.
ZZ's Clam Bar
Size: 16 seats
Price: Varies
Another option is to take over the entirety of ZZ's Clam Bar with a group of fourteen to sixteen diners. You can order Carbone dishes in addition to cocktails and crudos, but make sure to be on your best behavior.
Pagani
Size: 18 seats
Price: Varies
This new West Village restaurant has a small area in the back that's perfect for smaller groups. It's currently semi-private (the restaurant plans on adding curtains), but the long table actually offers a nice view of the pretty space that Taavo Somer designed.
The East Pole
Size: 20 seats
Price: Varies: Prix fixe options start at $70 — plus a $25 beverage minimum
A large "farm table" in East Pole's private room comfortably seats 20, but you can also book the entire floor (with a private bar) for events with up to 70 guests. The space is outfitted with vintage maps from co-owner Phil Winser family's personal collection.
The Elm
Size: 20 seats
Price: Varies
The nicest thing about the Elm's private-dining area, which is behind a glass door off the main dining room, is that you can order à la carte from an abbreviated version of Paul Liebrandt's menu. But expect an additional reservation fee that's based on the size of your party.
Lafayette
Size: 20 seats in the Salle Privée; 30 to 100 seats in the Cave du Vin
Price: Minimum expenditure varies: $1,000 for breakfast to $8,000 for a weekend dinner
Lafayette actually has two private dining rooms: The smaller space is located in the main dining room behind the bar, and it's tricked out with a flat-screen TV. Underground, on the cellar level, the Cave du Vin has its own bar, coat check, and bathrooms.
Carbone
Size: 25 seats
Price: Varies
You can reserve the back room of the restaurant for a completely private event: It fits up to 25 guests for a seated dinner and 45 for a cocktail reception. Groups are required to order off a set menu of hot and cold antipasti, two salads, a choice of main course, and a selection of cakes for dessert. Veal Parmesan makes any party better.
The Meatball Shop: Chelsea
Size: 28 seats
Price: Varies
Underballs is the underground bar beneath the Meatball Shop's Ninth Avenue outpost, and it's available to rent out for private parties. The space includes a projector and pull-down screen so you can create your own video installation.
Franny's
Size: 30 seats
Price: Varies: $50 to $90 per person
Franny's 2.0 has an intimate room called the Cellar, with candles, an antique bone mirror, and two commissioned prints by Francesco Simeti. The kitchen will work with you to craft a special menu (filled with plenty of pizza, of course).
RedFarm Upper West Side
Size: 32 seats
Price: Varies: $48 per person at brunch to $85 per person at dinner
RedFarm doesn't have a separate private dining room, but the restaurant will partition its space if you want to throw a semi-private party. The four-course "Best of RedFarm" tasting menu makes it easy to organize.
Harlow
Size: 34 seats
Price: Varies: $150 or $180 for dinner; $500 for a cocktail party
Richie Notar's seafood-centric supper club's private room is pretty flashy, with a wall of ivy and contemporary art installations. Apparently, actress Marion Davies used to entertain here in the thirties.
L'Apicio
Size: 36 seats
Price: Minimum expenditure varies: $1,500 to $7,500 for dinner
Gabe Thompson's biggest restaurant has a spacious wine room that displays bottles framed in black wood. It's expensive to rent during dinnertime, but reserving the space for brunch will only run you $500.
Manzanilla
Size: 40 seats
Price: Varies
The Spanish restaurant's private room is located on the lower level, with a full-service bar and views of the beautiful wine cellar. You have the choice of ordering à la carte off the regular dinner menu or working with the restaurant to craft a prix fixe menu.
Toro
Size: 50 seats
Price: Varies
Toro's private room is designed to evoke an underground Spanish bar in Majorca, an island in the Mediterranean Sea. It's outfitted with leather couches and mosaic tile floors, and includes a separate entrance and a private bar. If you're hosting a cocktail-style reception, it can fit 85 people comfortably.
Costata
Size: 60 seats
Price: Varies
Take a glass elevator to the third floor of Michael White's steakhouse and you'll find a large private room with exposed brick and colorful artwork. But beware: You'll have to meet a food-and-beverage minimum that changes depending on the day, date, and time of your event. (Read: It's hella expensive.)
La Cenita
Size: 65 seats
Price: Varies: $75 to $125 per person
This MePa Mexican restaurant has an upstairs private area that overlooks the main dining room. It can accommodate both small and large parties, but groups over ten are required to order the prix fixe menu. It's trendy: Alexa Chung recently hosted a dinner party here.