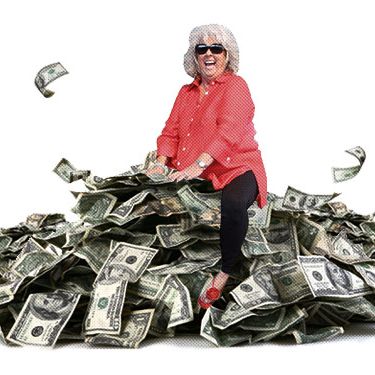 Never say Paula Deen fell off. Paula Deen doesn't quit.
Photo: Andrei Kallaur, Jen Cotton
Guess who's back? Hint: It's Paula Deen — yes, that's right, the up-until-recently embattled celebrity chef is coming to Williamsville, New York, next February 8 to host a one-hour live cooking show. Why Williamsville? The Post-Standard reports that Deen will be in town to cut the ribbon on her new HQ and Paula Deen Foods retail shop in Clarence, a suburb of Buffalo. The showroom, which will be open to the public, even includes a space "designed to be reminiscent of Deen's home kitchen," except it's stocked with things like Paula Deen Jalapeño Tortilla Chips, Paula Deen Sugar Free Coconut Clusters, and Paula Deen Raspberry Champagne Salad Dressing that you're supposed to buy. So, who's up for a road trip?
The cooking demo is priced at $60 per ticket — or the same exact cost as upper bowl seats at Barclays to see Kanye and Kendrick Lamar perform — and is seemingly Deen's first major culinary appearance since the events of the summer, when reports of the TV personality's alleged past racism emerged as part of an ongoing race and gender discrimination lawsuit filed by an ex-employee. The judge dismissed the case in August, yet Deen's most major public appearance to date was at the Metropolitan Cooking & Entertaining Show in Houston in September, where her "tears of joy" were met with an emphatic standing ovation.
It's widely thought that in the absence of television and media deals, Deen will mount a comeback through her restaurants and food brand. In addition to the cooking event, guests can pay $250 to get tickets to a "VIP Lunch with Paula Deen." It comes with an autographed cookbook, gift bag, a photo opportunity, and a "Southern style lunch personally selected by Paula Deen."
Wondering whatever happened to Paula Deen? She's heading to Buffalo for business and a show [Syracuse.com]
Earlier: Paula Deen Signs on to Hawk a New Line of Prepared Food at a Grocery Store Near You