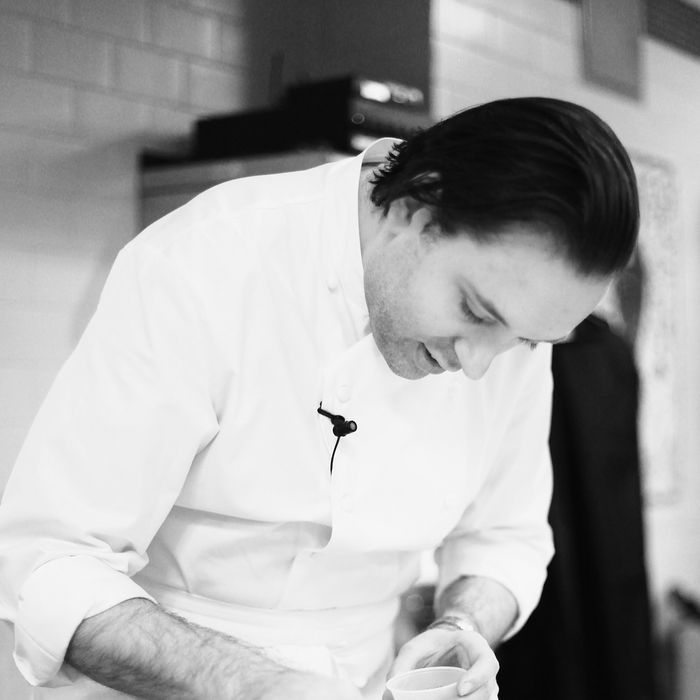 Clarkson Potter will release Liebrandt's book on December 3.
Photo: Neilson Barnard/Getty Images
Next month, Paul Liebrandt and co-writer Andrew Friedman will release To the Bone, a memoir and cookbook that follows Liebrandt's rise through the kitchen ranks of Europe and New York. The following passage, adapted from a section called "Discovering the New World," remembers the time in the mid-nineties that Liebrandt worked as a cook for Jean-Georges Vongerichten's Vong in London, the chef's first U.K. venture. (And NB, the photos throughout aren't from Vong; they're Liebrandt's dishes as featured in the book.)
About two years into my time in Marco Pierre White's kitchen, I heard that Jean-Georges Vongerichten, a New York City chef of French descent, was going to be opening an outpost of his pan-Asian/French hybrid restaurant Vong at the Berkeley Hotel in London. Having enjoyed Chinese food since childhood, I felt the pull of other Asian flavors. It seemed like the perfect next step for my own idiosyncratic journey, combining French technique with a new world of ingredients. It would also be an adventure in learning to cook for volume: Vong would have more than one hundred seats, and we'd be cooking food that wasn't Michelin bait per se.
I answered an ad in the Evening Standard and, after a brief meeting with Jean-Georges's on-site executive chef, was hired. It was actually pretty easy to secure the job, not only because of my growing résumé, but also because the global export of American dining concepts was just beginning to take hold, and Jean-Georges — though one of the kings of New York City, if not America, at the time—was more or less an unknown quantity in London. I got off on the wrong foot with the chef when I confused my start date, showing up one Monday later than he wanted. It's the kind of thing I'd sack somebody for, but fortunately they were more forgiving and didn't give the job away. There were just seven of us in that kitchen, and I was to man the fish station, which meant that I was responsible for all the butchering, cookery, sauce work, and garnish. A typical day would require me to crack eighty lobsters, dice up all the vegetables required for garnish, and make eight different sauce bases; one of my favorites was a stock made with whiting, lemons, oranges, limes, sumac, and hazelnuts that we served over monkfish. It was hard, manual work, and mentally very demanding.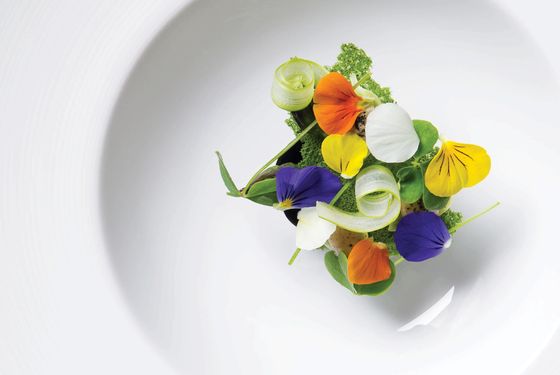 Liebrandt's tortellni of rabbit and cuttlefish wrapped in squid-ink pasta, under a bouquet of garnishes.Photo: Evan Sung, courtesy of Clarkson Potter
I didn't care much for the volume at the time, but in hindsight I realize that from a business standpoint, there was much to learn from Vong, which was designed and engineered to produce both good food and an enormous profit. The kitchen wasn't much bigger than others I had cooked in. Because the food was built for speed, we could produce enough of it to serve a full house, with labor costs comparable to those of the other places I'd worked. In a world in which many of the top restaurants are, at the end of the day, money losers, this place was unapologetically built for success. The food was distinct and delicious, but the real genius was in the overall conception and execution, in dishes such as lobster with Thai herbs, and a langoustine satay with oyster vin blanc and fresh kaffir lime leaf.
Vongerichten himself arrived on the scene a few weeks prior to the opening and made quite an impression on me: a slender man dressed from head to toe in black Prada, he exuded the calm aura of a spiritual guru. The first day he showed up, gliding through the kitchen with his beautiful girlfriend on his arm, I was awestruck. He was such a contrast to the beaten-down chefs I'd seen throughout London that I couldn't help but stare at him. "That's a chef?" I remember thinking to myself. Jean-Georges was the first chef of his level that I really got to interact with, and I took an instant liking to him. He may not have been in whites for that first visit, but he was a chef's chef through and through, and he knew the nuts and bolts of the kitchen and the cuisine.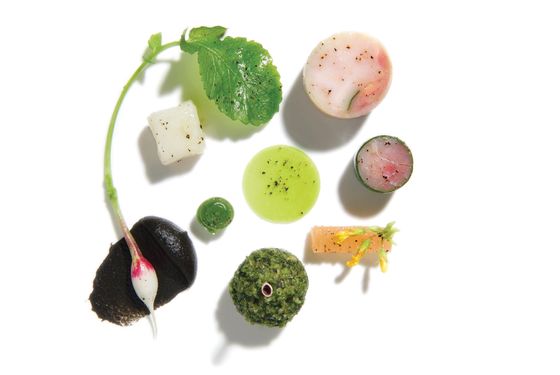 Rabbit preparations, inlcuding rabbit-cuttlefish rillettes.Photo: Evan Sung, courtesy of Clarkson Potter
He also had a mastery of all the ancillary requirements of the modern chef. He greeted visiting journalists gregariously, offering them personal tours of the kitchen and dining room, and was utterly at ease during all of the photo shoots leading up to the opening of Vong London. Vongerichten was also a celebrity on the same level as our bold-name guests. When we opened, Mariah Carey was a frequent diner, and when he visited her table, it was all hugs and kisses, as though he were one of her gang rather than a kitchen slave. Another frequent guest was one of my favorite directors, Luc Besson, whom Vongerichten had gotten to know when the filmmaker was in New York making The Professional and became a regular at the original Vong in Midtown Manhattan. When the London restaurant opened, an early lunch visitor was soccer superstar Pelé, who ordered the salmon wrapped in feuille de bric, sliced and served with a citrus vinaigrette. I made it for him and was thrilled when he came back the next day and ordered the same thing.
All of that had nothing to do with cooking but everything to do with success. Where even a titan like Marco pretty much chained himself to the stoves, Jean-Georges showed me a different aspect of being a chef — a stylish, high-living ideal that was undeniably appealing.
Beyond Jean-Georges, his imported team of cooks was less antagonistic than what I was used to. They were free of the tensions that coursed through the London cooking scene, like the Marco-inspired abrasiveness of many chefs or the generations-long tensions between French and British guys. Jean-Georges's cooks were serious and specific — they knew what the chef wanted and how to guide us there, but they weren't aggressive about it. Their attitude was industrious and collaborative, and this, too, was refreshing. The kinder, gentler environment also fostered a new and rare kitchen friendship: an Aussie named Jason, whom I'd met during a "stage" at La Tante Claire between working at The Restaurant and Vong, had also taken a job at Vong. He and I began dining around town on days off and when we could afford it, trying the better restaurants in hopes of edifying our palates.
I didn't love everything about Vong. The restaurant, after the fashion of its New York City mother ship, had a window into the kitchen that let the guests see us cooking, which was a first to me. Because we were on display, we were part of the décor, and so all the cooks had to wear colored skullcaps, with a different color for each section. They were polyester, hot, and itchy, and drove me crazy. But my meager issues were nothing compared to the disdain exhibited by the cooks who ran the other food service for the hotel, especially the head chef, an old-school British guy who would make a point of leaving his classic, haute, Savoy-esque food up on the pass for hours, so that as we walked by, we'd have to see it, as if to say, "See what we do." It was a perfect illustration of what was going on in London cuisine at the time. The old guard were being left behind, both stylistically and in the media, by forward-thinking chefs, both homegrown and imported, and they didn't like it one bit.
As the kitchen came together and I got to see more and more of the repertoire, I was impressed by the food. The base recipes were rock solid, the flavors were fresh and clear, and the dishes I worked on made an impact that is still with me today. There was a lovely lobster dish of curry paste that I'd make by combining shrimp paste and red, yellow, and green curry pastes, and sweating it down; then I'd add apples and carrot, then turmeric, chiles, and lemongrass. We didn't really cook out the apple and carrot flavor, so they remained in the foreground. For service, we'd warm it up and finish it with a spoonful of whipped cream — it would soufflé up, right over the top of the lobster — and a chiffonade of cilantro. It was simple but very tasty. We also made a langoustine saté that was served over a piped-out shrimp and langoustine mousse. But the main thing was the sauce: we added a puree of fresh oyster and a pinch of lime leaf to a sauce based on a vin blanc, a traditional sauce of white wine and cream.
There was real freedom in Jean-Georges's food, not just in the rule breaking, but in the unabashedly big flavors, the spice, and the acidity that I'd never encountered in such a sophisticated setting. Asian ingredients are part of just about every chef's larder these days, but it was borderline revolutionary at Vong and very exciting: new flavors unleashed by French technique. During an era in which the food in Michelin-worthy restaurants was rigidly classical, having food of this caliber produced with the same methods and at such incredible volume was template-shattering.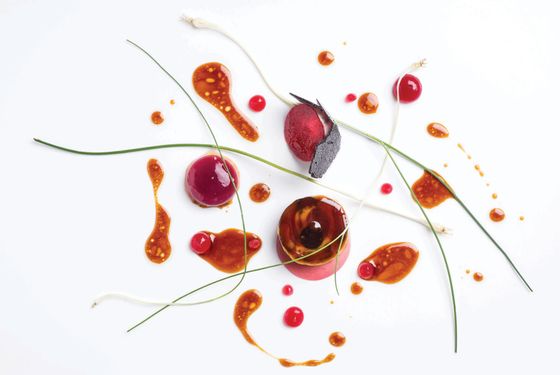 From royale of hare: loin ballotine, truffled boudin, pomegranate tuile, and grilled baby onions.Photo: Evan Sung, courtesy of Clarkson Potter
Southeast Asian food — with its lime leaf, lemongrass, chiles, palm sugar, and fish sauce—was a whole new world: fragrant, alive, intoxicating. The use of a variety of citrus at Vong was a revelation to me, the first time I'd seen certain distinct acidities in cooking. I'd used lemon in classical French cuisine, but Vongerichten called on quite a bit of other citrus, such as mandarin and especially kaffir lime. It began a love affair between me and this family of fruits, which has only grown and developed over time. I think of lime as the femme fatale of the citrus world, a seductive, perfumed experience unto itself that can overtake you if you're not careful. It's a fruit that brings out the explorer in me. I'm endlessly fascinated by its possibilities, not just of the juice itself but also of the oily skin and even of the intensely fragrant leaves. There's a distinctly female sexiness to lime that compels me. Today a number of limes find their way into my cuisine, such as Persian limes, limequats, and mandarinquats. But it all began at Vong, with what at the time seemed an audacious yet perfectly natural mingling of French technique and Asian flavors.
As a chef who sometimes thinks in terms of colors, lime also epitomizes green. The 2.0 version of my signature Green Apple-Wasabi Sorbet is served atop a frozen lime half, the apple, wasabi, and lime united by their common color. Also new to me at Vong was the opportunity to plate my own food. In other kitchens I'd worked in, we'd deliver our work to the pass, and the chef would plate and fuss over it until it was just right.
Through it all, Jean-Georges continued to impress. First, he was just a good guy. I didn't get to cook side by side with him because he was too busy running around, keeping tabs on all the moving parts of his growing restaurant group. But I still remember the day he took the time to ask me to make him the langoustine saté, and his complimentary and enthusiastic appraisal upon tasting it. Early on in Vong's business days, he took a bunch of us chefs on a tour of an Asian supermarket, curious about what ingredients were available locally. Spotting some sesame bars that he knew from overseas, he bought a handful and handed them out to us. As we stood outside the market, tasting and hanging out with the boss in a way I never had before, he talked to us about his time in Bangkok and how they cooked there, contextualizing the snacks we were eating by describing how he'd discovered them at open-air street markets in the Far East.
My entire experience of Jean-Georges planted a seed in my head, a curiosity about New York City: Vongerichten was born and trained in Europe, but had found his great success in Manhattan. Everything about him was refreshing to me, from his open, approachable attitude to the freedom in his food. Proud Brit though I am, I can't help but admit that this was all incredibly refreshing to me. To a kid who never felt quite at home amid the stifling scene in London, Jean-Georges made me want to see where he came from.
His fame, and pursuit of fame, also flew in the face of what I have to admit is a stifling aspect of British culture: the idea that you cannot get too big for your britches, that only certain people are preordained to make it, to achieve a certain level of success. The uniqueness of his food — the unapologetic trumpeting of Asian flavors in a refined context—was also something that I didn't think a Brit would have been capable of in those days. Marco, god among men that he was, still operated within the template of classic French cuisine and came up in a time when one had to be validated by the imprimatur of the greats. Vongerichten, on the other hand, created something altogether different, which he somehow made seem utterly natural.
It wasn't that I had outlandish ideas of my own yet, but the oppressive structure of British kitchen life, reflective of the country's class system, silently bothered me, almost to the point of depression. And so, here was Jean-Georges, a jet-setting, Prada-wearing original, commanding attention on the world stage as though it were the most natural thing in the world. The fact that he found all of this success in New York City, I reckoned, was all I needed to know.
Related: Paul Liebrandt on Leaving Corton and the Future of the Elm