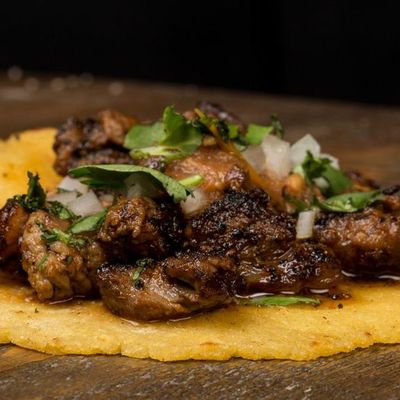 The Carne Asada taco looks damn good.
Photo: Courtesy of Otto's Tacos
Another taqueria opens in the East Village today, but this one's taking on the challenge of making masa blends in-house and serving fresh-made corn tortillas. The menu, with only five types of tacos, looks basic, but that's a good thing. Los Angeles expat Otto Cedeno, a former tech-start-up exec, strives to perfect traditional recipes: Fillings include shrimp with a serrano-based crema and pork shoulder that's immersed in a beer broth, slow-cooked for hours, and then grilled on a plancha. He's also making his own salsas and marinades. Otto's (at 141 Second Avenue) is set up like a grab-and-go taqueria — just make sure you don't leave without a side of masa fries.