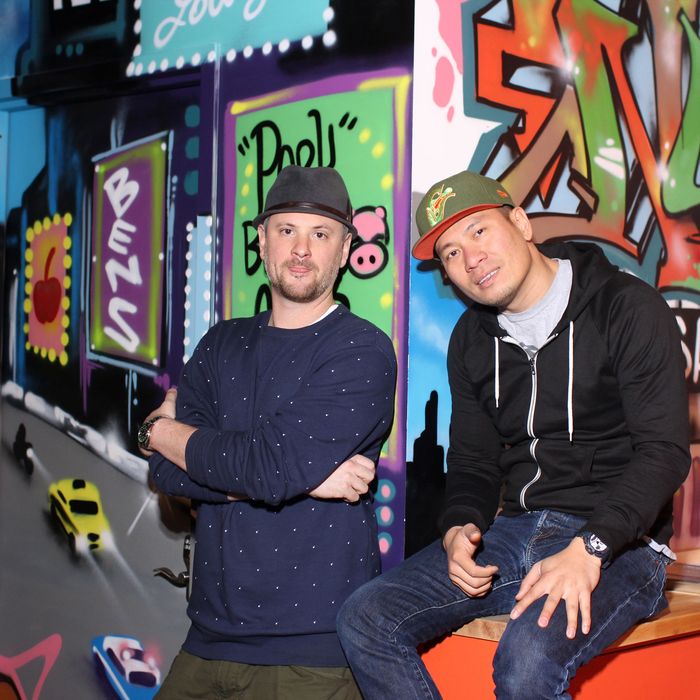 Ben Daitz and Ratha Chaupoly, reluctantly posing in front of their new Times Square outpost.
Photo: Melissa Hom
As trendy as bánh mìs are in New York, it's curious that most shops and bakeries specializing in the sandwiches — meat-and-pickled-vegetable heroes built on rice-flour baguettes — are still so unfashionable: often found in far-out neighborhoods or odd locations, with bright lights and purely utilitarian decors. That changed when Ratha Chaupoly and Ben Daitz opened the first Num Pang in 2009, a stylish shop that took the basic ingredients of the bánh mì and gave them an elevated Cambodian twist. Earlier this month, to little fanfare, they opened a Num Pang outpost in Times Square — their third new location this year, and their fifth total in New York. In fact, Chaupoly and Daitz have been quietly building a thriving mini-chain, and it sounds like they're ready to break into the big time.
Chaupoly, a Cambodian immigrant, and Daitz, a Jewish New York native, first bonded over Jell-O shots at Clark University in Massachusetts in the early nineties. When Chaupoly opened Kampuchea Restaurant, Daitz volunteered to help out his friend, and when Daitz found himself eating Kampuchea's sandwiches more often than anything else on the menu, something clicked.
"We approached each other in 2009," says Daitz. "Why don't we do a little offshoot of that part of the menu? A to-go sandwich shop."
Chaupoly and Daitz saw a chance to reimagine the idea of a bánh mì shop: They offered fillings like Japanese yams and hoisin meatballs. They worked with local bakeries to make their own bread. They collaborated with famous chefs on charity sandwiches. "Num Pang's not like the bánh mì shops," says Daitz. "We definitely try to clarify that. The traditional ones are more about cold cuts and paté, and we like to play around. Num Pang's a cross-cultural mash-up."
The first Num Pang opened in a tiny space off University Place — conveniently right by New York University and Washington Square — and plenty of rave reviews followed. When it came time to expand, Chaupoly and Daitz chose to position Num Pang in neighborhoods particularly in need of good, cheap, quick food: Union Square, Grand Central, Nomad, Chelsea Market, and now, Times Square.
The trajectory is similar to, say, the Meatball Shop, which opened its first location in 2010, eleven months after the first Num Pang. But while Meatball Shop co-founders Michael Chernow and Daniel Holzman pal around on late-night talk shows and book lifestyle and modeling gigs, Chaupoly and Daitz have kept a much lower profile.
"I'm very private," says Chaupoly. "Those guys go on TV shows — or they've just come out of culinary school — and they run around calling themselves chefs. The word chef is misused; I consider the majority of the people out there in this business to be cooks. It's hard for me to promote myself in that sense. It's about respect for the business."
Now, though, that under-the-radar approach might be changing: Chaupoly and Daitz recently shared their recipes on VH1 and signed a cookbook deal. They also had to rethink one of their strictest company policies: While they once forbade substitutions and changes to menu items — an ironclad policy that made it easier to ensure quality control — they've softened their position, a tad, after mayo hater Jimmy Fallon asked them to leave the condiment off a delivery order. The shops now offer customers a choice of traditional mayo, yogurt mayo, or soy mayo.
Those aren't the only changes aimed at giving the shops wider appeal: Num Pang will soon launch a gluten-free, quinoa-based bread. "Our growth is based on what's profitable," says Chaupoly.
So, what's next? A new Num Pang is confirmed for the World Financial Center, and an expansion to Brooklyn is all but inevitable (Daitz hints at — you guessed it — Williamsburg). The duo has also looked into opening in Boston and Washington, D.C., but for now, the focus is on New York.
"We've made an estimate of what we can do in New York before it's time to move forward, and it's between twelve and fifteen shops in the city," says Chaupoly. "This year alone, we grew from two to five. Next year, we may do it a little bit slower."