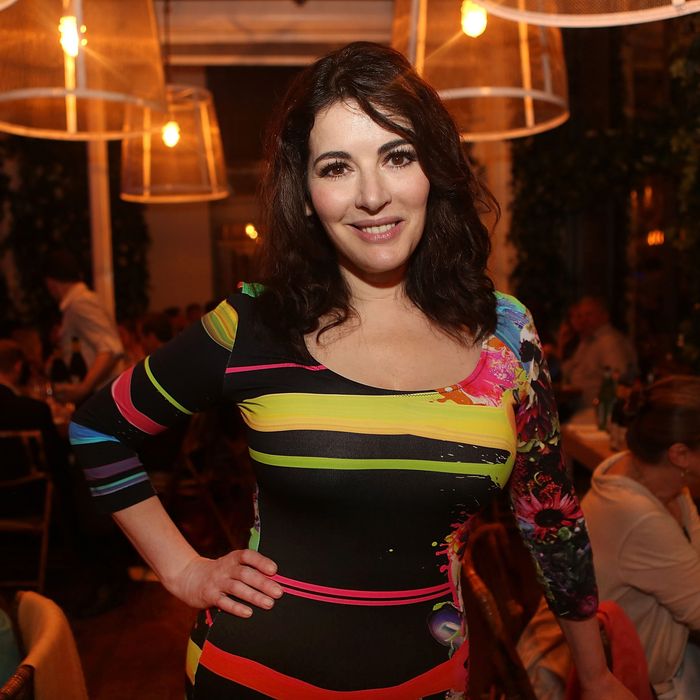 Lawson.
Photo: Aaron Davidson/Getty Images
The lawyer for the Italian sisters on trial for making $484,000 worth of charges using entrepreneur Charles Saatchi's credit cards described today in court how Saatchi's ex-wife, celebrity chef Nigella Lawson, allegedly used cocaine, smoked marijuana, and took numerous prescription pills over the course of the sisters' ten years of employment with the couple.
Elisabetta and Francesca Grillo worked as assistants for the pair and their children, and claim that Lawson gave them the green light to use Saatchi's credit cards for shopping excursions and other purchases in exchange for not telling him about her drug use. "In a nutshell we submit that she had a guilty secret from her husband, her then husband," says Elisabetta's lawyer Anthony Metzer. A judge has since ruled that the testimony can be used in court.

UK court hears celebrity chef Nigella Lawson took drugs -reports [Reuters]
Nigella Lawson case can deal with alleged drug use [AP]
Earlier: Nigella Lawson Pretty Much Divorced From Charles Saatchi
Related: Why Do People Think Nigella Lawson Hates Feminism?