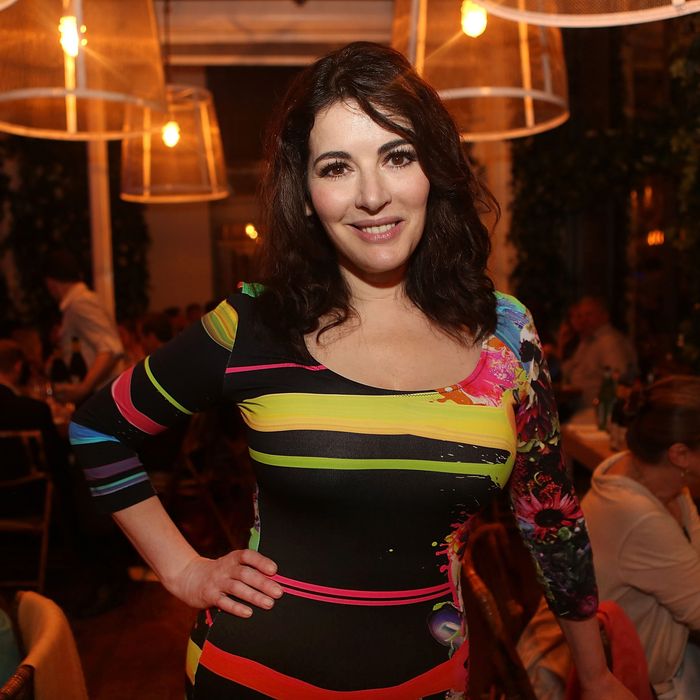 Photo: Aaron Davidson/Getty Images
The public image of Nigella Lawson is under continued attack in the British court, where two former personal assistants have been charged with spending more than $484,000 of the wealthy advertising mogul (and Lawson's ex-husband) Charles Saatchi's cash without permission. Elisabetta and Francesca Grillo, who worked for Lawson and Saatchi for more than ten years, gave statements in September alleging the well-loved celebrity chef and cookbook writer used cocaine and was a prescription-pill addict who shared her supply with her children. In court yesterday, the Italian sisters' lawyer reasoned that they were given access to company credit cards as part of a "tacit understanding" that they wouldn't reveal Lawson's "guilty secret" to Saatchi. During the legal arguments, a judge ruled that information pertaining to Lawson's alleged drug use can be used in court.
News of the Italian sisters' fraud surfaced in July, when it was also alleged that their excessive spending was related to the public fight between Lawson and Saatchi at a Mayfair restaurant, the same incident in which he repeatedly put his hands around her throat. The Grillos, who allegedly used the money to pay for flights and designer clothing, were arrested on August 2, the same week Lawson all but finalized her divorce from Saatchi, and their seemingly retaliatory statements, taken in September, claimed that Lawson had given her children access to drugs and left paraphernalia around the home. In court yesterday, Judge Robin Johnson read an e-mail Saatchi sent to Lawson earlier this fall. It read, in part:
Of course now the Grillos will get off on the basis that you [and your daughter] were so off your heads on drugs that you allowed the sisters to spend whatever they liked and yes I believe every word they have said.
At the center of the courtroom drama is Lawson, who now presides over U.K. and U.S. versions of The Taste with Anthony Bourdain; there's Saatchi, the multimillionaire art and advertising mogul whose reputation was damaged after the tabloids ran the choking pictures; and the Grillo sisters, who have been described as "devout Catholics," albeit ones with a penchant for Chanel and Prada. Also somewhere on the periphery of all this is public-relations "guru" Richard Hillgrove, a man who wears a Smokey the Bear hat and has been insisting since the summer that the choking incident was staged to facilitate the divorce and give Lawson a "publicity gift" in the process. Lawson threatened to sue over the blog post, and meanwhile, for unknown reasons, Hillgrove also posted the Grillo sisters' statements online to a different blog in October. Got all that?
The opacity is intentional because it's beneficial for some. The Saatchi-Lawson divorce and court case have been high-octane tabloid fodder for U.K. readers in particular. The last four months have been an open call for countless PR experts, professional speculators, anti-feminists, and more to weigh in on what Nigella Lawson — who isn't trying to take over the world but just help people get over their fear of cooking —means, exactly. It's hard to imagine right now that the forthcoming trial, which the BBC reports is expected to last two weeks, will do anything other than damage Nigella Lawson's reputation, and splay out a paltry selection of accusations in place of insight. It certainly won't make anyone more handy with a chef's knife.
Nigella Lawson told 'you trashed your daughter's life' by ex-husband Charles Saatchi, court hears [Telegraph UK]
Saatchi accused Nigella Lawson of drug-taking, court hears [BBC]
Earlier: British Court Hears Reports of Nigella Lawson's Alleged Drug Use