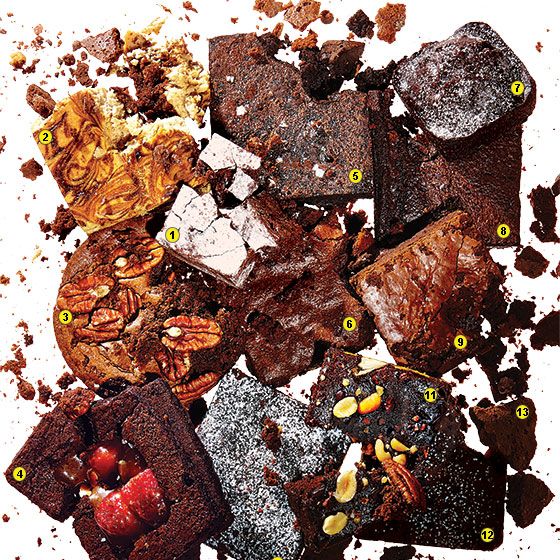 Photo: Bobby Doherty/New York Magazine
Brownies have always sparked heated debate among their devotees: cakey versus fudgy. Cocoa powder versus strictly unsweetened chocolate. Nuts or no nuts. Fat Witch versus Baked. Now, though, the field has grown, and the newest batch caters to increasingly common dietary restrictions (vegan, gluten-free), satisfies appetites for alternative whole grains, and exploits the boom in bean-to-bar chocolate-making. And even though this classic American confection—whose first, chocolate-free iteration traces back to Fannie Farmer's 1896 cookbook­—has been overshadowed of late by trendier treats, it's never gone out of fashion. Here, a baker's dozen of New York's newest models, with a handy Fudgeometer gauge, from cakiest to fudgiest and all points in between.
Fudgeometer: Cakey=1, Fudgy=9
1. Mast Brothers
111 N. 3rd St., nr. Berry St., Williamsburg; 718-388-2625; $3
These Fat Witch-size little guys pack a punch. They're made with the chocolate factory's Stumptown-coffee-flavored bars, and they'd be especially good to have around if you were a student pulling an all-nighter or a truck driver on a long haul. Mysteriously, they start out cakey, but after a few chews, you swear they fall under the heading of fudgy. 5
2. Tip of the Tongue's Espresso-Cheesecake
43 Lincoln Rd., nr. Flatbush Ave., Prospect Lefferts Gardens; 718-693-2253; $3
Cronuts are all well and good, but as far as Frankenpastries go, that venerable crowd-pleaser the cheesecake-brownie deserves more credit. Case in point: this fantastically rich, perfectly balanced espresso-flavored beauty from a Brooklyn caterer who recently opened a brick-and-mortar coffee-bar bakeshop. 7
3. Maison Kayser
Multiple locations; maison-kayser-usa.com; $4.25
Incredibly, the French—baking guru Eric Kayser among them—have embraced le brownie. And judging by Kayser's pecan-topped, muffin-size version and Mille-feuille's brownie (see No. 6), they lean cakey. 4
4. Café Grumpy's Salted Caramel
Multiple locations; cafegrumpy.com; $3.75
As if to atone for defiling a decadent confection with wholesome raspberries, the coffee shop's in-house baker sinks a cache of caramel into the top of what amounts to a brownie sandwich and showers the thing with Maldon-sea-salt flakes. 6
5. Ovenly
31 Greenpoint Ave., nr. West St., Greenpoint; 347-689-3608; oven.ly; $3.25
These substantial sea-salted specimens get a remarkable depth of bittersweet flavor via good cocoa powder from San Francisco chocolatier Guittard and a touch of Stumptown Hairbender espresso (and also serve as a rebuke to the anti-cocoa-powder brigade). The extra-moist texture is somewhere between fudgy and squishy. 8
6. Mille-feuille
552 La Guardia Pl., nr. W. 3rd St.; 212-533-4698; $2.50
A fine example of the cakey school: When super-fresh, they fairly dissolve in your mouth like brownie cotton candy. The flavor from the bittersweet Valrhona chocolate is terrific—subtle and nutty with a hint of roasted coffee beans. 1
7. Vegan Divas
1437 First Ave., nr. 75th St. 212-734-0845; $3.50
In a bizarre twist of fate, François Payard is married to a vegan, Fernanda Capobianco, who runs a vegan bakery—presumably to counteract her husband's profligacy with butter and eggs. Her contribution to the brownie canon has cookie-crisp edges, a domed top sprinkled with sugar, and a cakey spelt crumb that derives its flavor from vegan chocolate chips and organic cocoa powder. 1
8. Davey's Ice Cream
137 First Ave., nr. St. Marks Pl.; 212-228-8032; $2.25
Most brownies you find in brownie sundaes disappoint and serve as a kind of sad, outsize garnish. Not so at Davey's, where the streamlined versions are so good—delicately fudgy, well balanced, with a long finish—they're also sold separately. 6
9. Runner & Stone
285 Third Ave., nr. Carroll St., Gowanus; 718-576-3360; $3
It is not immediately obvious what's different about these classic-looking brownies. But the slightly grainy texture and earthy flavor come from baker Peter Endriss's use of local whole-grain rye flour and a smidgen of toasted, ground caraway. The result: an unabashedly fudgy brownie that tastes almost virtuous. 6
10. Mah-Ze-Dahr's Dark Chocolate
At Intelligentsia at the High Line Hotel, 180 Tenth Ave., at 20th St.; 212-933-9736; $3.50
In a quest for the perfect balance between fudgy and cakey, online baker Umber Ahmad achieves a variable texture that's crisp on the edges and almost deliquescent in the middle, the tender crumb riddled with nuggets of bittersweet-chocolate chunks. It's a handsome specimen, too: Cocoa powder imparts the pitch-black color, contrasted by a flurry of confectioners' sugar on top. 5
11. Choc. Peanut Butter & Honey
At Stumptown Coffee Roasters, both locations; stumptowncoffee.com; $5
Two things you should know about these Los Angeles imports: They were devised to "throw people off the cupcake train," according to co-owner Monika Gray, and they really show best when refrigerated and eaten cold. (Lukewarm, they turn to mush.) Utterly smooth and ganachelike, they derive textural contrast from a garnish of cacao nibs and crushed peanuts and an inner layer of salty, crunchy peanut butter. 8
12. Du Jour
365 Fifth Ave., nr. 5th St., Park Slope; 347-227-8953; $3.50
A super-crisp, powdered-sugared top, plus a fairly soft and fudgy center with a smattering of chopped walnuts, make for a classic everyday brownie whose only flaw is that it errs on the side of too sweet. 6
13. Seth Greenberg's Brownie Crunch
Whole Foods; $6.99 for a four-ounce bag
Seth Greenberg, son of William Jr., has brownies in his blood, but his latest concoction may baffle purists. The Brownie Crunch is to the brownie, you see, as the bagel chip is to the bagel. It's meant for those who like only the crisp edges—a brownie-eating species we've yet to encounter. (Fudgeometer not applicable.)
*This article originally appeared in the November 11, 2013 issue of New York Magazine.