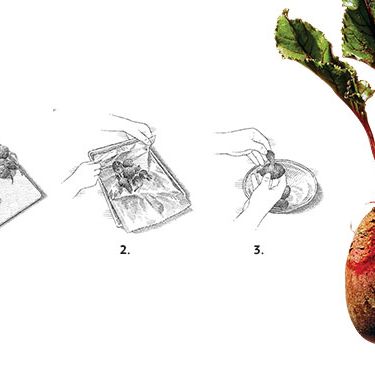 Photo: Bobby Doherty/New York Magazine. Illustrations by John Burgoyne.
With a higher sugar content than most any other vegetable, beets require a bit of flavor contrast to counteract their inherent sweetness. Mollie Katzen, who presaged this vegivore moment with her pioneering Moosewood Cookbook 36 years ago, finds the perfect foil in the tart citrus segments and apple-cider vinegar she uses to dress roasted roots. The recipe is adapted from Katzen's new cookbook, The Heart of the Plate (Houghton Mifflin Harcourt; $35), and encourages home cooks to experiment with variously hued beet varieties and alternative garnishes.
Mollie Katzen's Citrusy Beets
1 pound (3 to 4 medium) beets, any color
2 tbs. cider vinegar
1/2 tsp. minced or crushed garlic
1/4 heaping teaspoon salt
1 tbs. agave nectar or light-colored honey
1/4 cup extra-virgin olive oil
2 oranges, suprêmed
1 large ruby grapefruit, suprêmed and segments halved if large
Optional garnishes: long strands of orange zest, thin strips of fresh mint, avocado, or fresh berries
Preheat the oven to 400, with a rack in the center position. Line a baking sheet with foil. (1) Remove the beet greens, and trim the stems to within an inch of the root. Lay the beets on the foil, add a splash of water (a tablespoon or two), and (2) press together the edges of the foil to form a packet. Roast for about 30 minutes, or until the beets are fork-­tender. (Be careful to avoid the steam when opening the packet.) Let cool completely, then (3) peel with your fingers or a sharp paring knife, and cut into bite-size chunks or elegant half-circles. Combine the vinegar, garlic, salt, and agave or honey in a medium bowl, and whisk until the sweetener is dissolved. Drizzle in the olive oil, continuing to whisk until it is incorporated. Add the beets to the dressing, and stir gently until coated. Let sit at room temperature for at least an hour before adding the fruit. (Cover and refrigerate if it's going to sit for longer—up to a day is fine.) Add the orange and grapefruit sections, and stir gently until coated. Serve cold or at cool room temperature, plain or topped with any or all of the optional garnishes. Serves 4.
*This article originally appeared in the November 18, 2013 issue of New York Magazine.