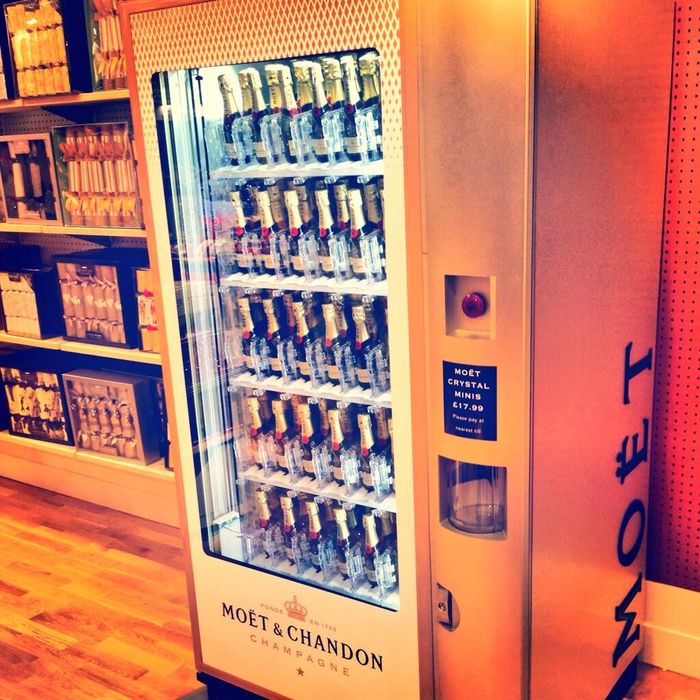 Please don't try to tell us you had one of these in high school.
Photo: Courtesy Moet UK/Twitter
Because the holidays are all about alcohol and superfluity, Moët & Chandon is selling tiny bottles of Champagne from a vending machine in the Christmas section of department store Selfridges in England. All this really needs is a bin of bendy straws and a companion caviar ATM (or, at the very least, a Chinese French-fry robot) set up next to it. Targeted to entry-level buyers, a 200-milliliter bottle goes for about $29, by Luxury Daily's estimate, which also notes it's a "feasible price for budding luxury buyers when compared to other bottles for purchase at the department store."
But given that 200 milliliters are barely a glass-and-a-half by restaurant standards, and also that a half-bottle of Imperial Brut can be had for around the same price just about everywhere, the charge here is seemingly all about the luxe Swarovski crystal "embellishments" that come affixed to the bottle. That, and the sad fact of life that most "budding luxury buyers" can't afford Moët's leopard-print methuselah edition that 2Chainz is partial to.
Moët & Chandon focuses on novelty with a Champagne vending machine [Luxury Daily via PSFK]
Related: Now L.A. Has Its Own Caviar ATM!