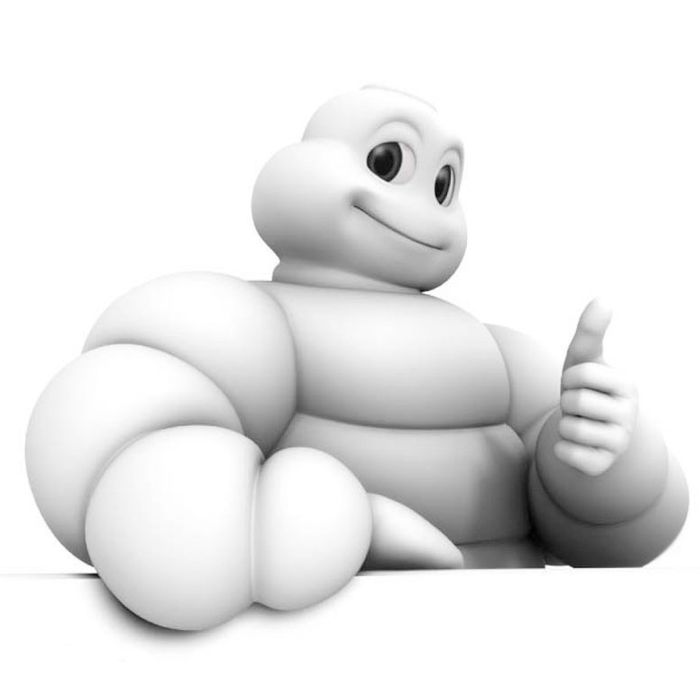 Bibendum is thrilled to bits.
Photo: Courtesy of Michelin
Last year, only nineteen restaurants in Chicago received star ratings, which left the Michelin guide seeming, well, somewhat deflated. But as critic Phil Vettel notes over at the Tribune, this year's bumper crop of star-rated restaurants is the largest showing since the guide first blew into town four years ago, which is pretty great. Six newcomers climbed on, including Iliana Regan's Elizabeth and Curtis Duffy's acclaimed Grace, with one and two stars, respectively, for their lady-name restaurants. Elsewhere, Nick Kokonas and Grant Achatz's Alinea maintains its exclusive status as the city's only three-star restaurant, while Thomas Lents's output at Sixteen in the Trump Hotel garnered the chef another star. As we noted earlier, Graham Elliot may be closing his namesake restaurant in a few weeks for an overhaul, but the chef-restaurateur nonetheless landed two stars. The full lineup, straight ahead.

Three Stars

Alinea

Two Stars

Grace *
Graham Elliot
L2O
Sixteen **

One Star

Acadia
Blackbird
Boka
EL Ideas *
Elizabeth *
Everest
Goosefoot
The Lobby *
Longman & Eagle
Mexique
Moto
Naha
North Pond *
Schwa
Senza *
Sepia
Spiaggia
Takashi
Topolobampo
Tru

* Indicates restaurants new to the list.
Michelin Chicago Guide 2014: EL Ideas, Elizabeth among winners [Chicago Tribune]
Earlier: Michelin Chicago Results Released Early; Alinea Holds On to Three, Grace Lands Two
Earlier: Chicagoans in Every Walk of Life Shattered By News of Decline in Michelin Stars
Related: Michelin Releases 2014 NYC Star Ratings