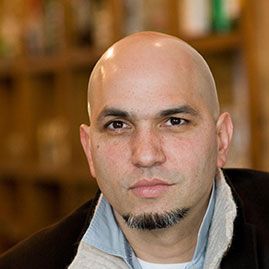 Psilakis says Kefi is also reopening in the upcoming weeks.
Photo: Courtesy of Michael Psilakis
Two license applications filed this week with the State Liquor Authority indicate that Kefi and MP Taverna chef-owner Michael Psilakis may be reviving plans to open a massive,10,000-square-foot restaurant at 470 Driggs Avenue in Brooklyn. You know, the one Psilakis last talked about three years ago.
Psilakis first confirmed plans for the restaurant in March of 2010 around the time he scored a liquor license for the space, left Anthos, and announced his intention to open someplace casual "along the lines of Kefi and Gus & Gabriel." At the time, the chef explained that while his LLC name referenced a beer garden, that wasn't necessarily the style of restaurant he was seeking to open. ("It's super-preliminary right now," he told Frank Bruni, and apparently he wasn't kidding.)In any event, the unnamed restaurant's proprietors — who include some MP Taverna partners — presented plans at CB1 Brooklyn meeting last month. This morning, the chef tweeted about opening the new place.
Going upstate to check out reclaimed wood for a new project. Cranking up some old school… pic.twitter.com/nGl6UVTJo9— Michael Psilakis (@MPsilakis) November 8, 2013

Expect a few more details soon. Meanwhile, Psilakis promises that Kefi, which has been closed on the Upper West Side since January, will reopen"very soon," and there will be meatballs just as soon as it does.
Application [NY State Liquor Authority]
Earlier: Michael Psilakis Leaves Anthos
Earlier: Casa Pomona and Michael Psilakis's Kefi Will Reopen Soon