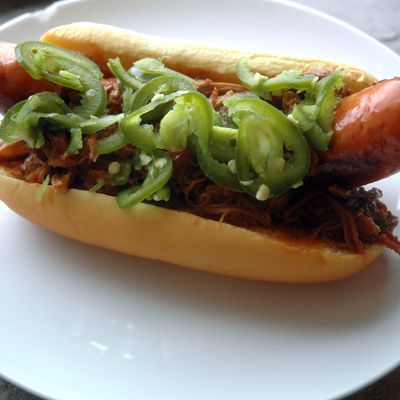 Make it snappy: Why this, this hot dog is called the "Hacksaw Jim Dugghan."
Photo: Katherine Pangaro
Opening this Friday, November 15, along with the brand-new, 7,200-square-foot McCarren Rink is a food concession called Hanson Brothers. Proprietors Josh Cohen and Tyler Kord say it has nothing at all to do with those musical Mmmhops guys and everything to do with the gruff, Coke-bottle-eyed fictional clan from the seminal 1977 Paul Newman film Slap Shot. The menu, which will be served from mobile carts located within a tent near the rink, includes variations of things served at Kord's No. 7 and Cohen's Jimmy's Diner. Expect a variety of "melts" served on pretzel bread, souped-up hot dogs, and then some. The full menu, straight ahead.

Crazy Doggs
Classic Dog $3
Hot Brown Dog (cheese sauce, bacon, tomato) $5
Imperial Dog (lychee muchim, fried garlic) $5
Hacksaw Jim Dugghan (pulled pork, pickled jalapenos) $6
Tofu dogg + $1

Melts
Classic (cheddar, mustard) $5
Pot Roast (brisket, mirepoix relish, sour cream potato sauce) $8
Black Bean Burger (jalapeño jack, pickled corn) $6
Happy Pilgrim (turkey, Swiss, sweet potato, cranberry) $7
Broccoli Cuban (broccoli, roasted onions, pickles, mustard, Swiss) $6

Nuts and such
Pumpkin-seed brittle $3
Blackout cake $5
Honey roasted peanuts$3
Popcorn $3

Drinks
Hot chocolate with malted whipped cream and crushed whoppers $3
Red eye Chicory coffee $3
Water $2
Juice $2
Ginger beer $3

Kord and Cohen say they developed their custom "green label" blend of meat for the hot dogs with Steve Tychanski Jr. of Steve's Meat Market in Greenpoint, and they will also bring in products from stalwart local vendors Peter Pan Donuts and Acme Smoked Fish Corporation.
The rink, a project overseen by nonprofit Open Space Alliance for North Brooklyn, will be open daily from 11 a.m. to 10 p.m., from November 15 until January, and also includes rentals, lessons, hockey clinics, and a pro shop. Admission will be $8 for adults and $5 for students; skate rentals are $5.