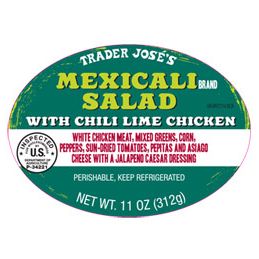 Not-so-ready-to-eat.
Photo: Trader Joe's
The USDA announced that certain prepared foods made by retail supplier Glass Onion Catering are suspected to have sickened 26 people in three states with potentially deadly E. coli O157:H7, and as a result, some 181,620 pounds of ready-to-eat salads and sandwiches sold at Trader Joe's, Whole Foods, and Walgreen's outlets in ten states are now subject to a wide-ranging recall.
An earlier, voluntary recall on the part of parent company Athertone Foods covers a wide range of prepackaged meals, including wheat-berry salad kits and "Southwestern-style" chicken wraps. Wraps and salads are sold under a variety of names, but the list of potentially contaminated products usually includes selections made with cooked chicken or ham; meanwhile, the expanded USDA recall covers food produced between September 23 and November 6 that were then distributed to ten states; full lists of affected products are here and here. Additionally, Trader Joe's is recalling its "Trader José"–branded Mexicali salads stamped with "use by" dates ranging from October 1 to November 15 in the affected states.
Out of the 26 total confirmed E. coli cases, 15 had reportedly eaten prepared foods included in the recall prior to developing symptoms. If you have any of these salads sitting in your fridge, take them back for a refund or just trash them.
Updates [Trader Joe's]
Atherstone Foods Voluntarily Recalls Salads and Wraps Because of Possible Health Risk [FDA]
Company recalls salad, sandwich sold at Trader Joe's [AP via KOMO News]