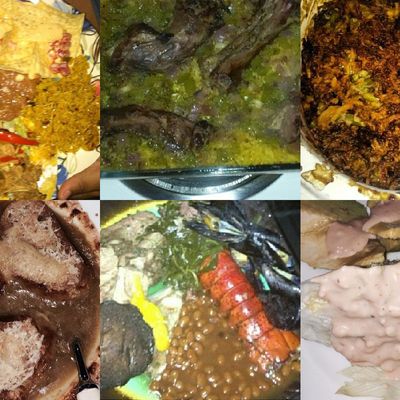 Martha Stewart employs whole teams to photograph food. She has a small army at her disposal, ready to snap shots of pies and turkeys at a moment's notice. But as the world learned yesterday, when Stewart is left to her own devices, you get, well … this:

And this:
Best slow cooked onion soup with baguette croutons and gruyere and Comte cheese melted on top. Garden onions pic.twitter.com/VNFkeiV3o3— Martha Stewart (@MarthaStewart) November 17, 2013

Russian dressing and French onion soup are both notoriously difficult foods to photograph well: The dressing looks like spoiled Pepto-Bismol. The soup looks like bready excrement. But that only makes you wonder why Stewart would photograph those foods in the first place.
Here are four theories:
• Martha Stewart does not have functioning eyeballs: Would it really be so difficult for a woman as wealthy and wily as Martha Stewart to simply fool the public into believing that she isn't legally blind?
• She got a second opinion on the photos from one of her employees, who told her they looked fine: "Yes, Ms. Stewart, that lettuce shot looks delicious," said some poor assistant, fearing Martha's wrath if she told her that the glop of dressing actually looks like Krang from the Ninja Turtles.
• She's got people to do her food-porn-ing and Tweeting for her: And those people are now looking for new jobs.
• Martha Stewart is punishing us: We have done something bad, and now she is forcing the world to share these nausea-inducing images.
But I bet Martha fell victim to the same trap that ensnares many would-be food pornographers: She liked what she was eating, she took the pictures, she looked at them, and she thought, at least momentarily, Well those don't look so hot, but then she posted them anyway. And, because it's Martha, there was blowback. (Jezebel dug through Martha's archives to round up more awful food shots, comparing them to Terry Richardson's love of harsh lighting and dull subjects.)
Here is the lesson to be learned: If Martha Stewart can't make smartphone food porn look good, neither can we.
Most delicious food is brown. Fried chicken, bacon, steak, burgers, pastas, biscuits, cronuts: They're all just some shade of brown or beige. That's ugly. A scattering of chives isn't going to help your cause when dim restaurant lighting is involved.
Martha Stewart's brand is about aspiration. But if this is the food porn to which we should aspire, we're better off not even trying. By putting our iPhones away and sparing the world our amateur attempts to make half-eaten spaghetti look appetizing, we can actually all be better than Martha. That's a good thing.