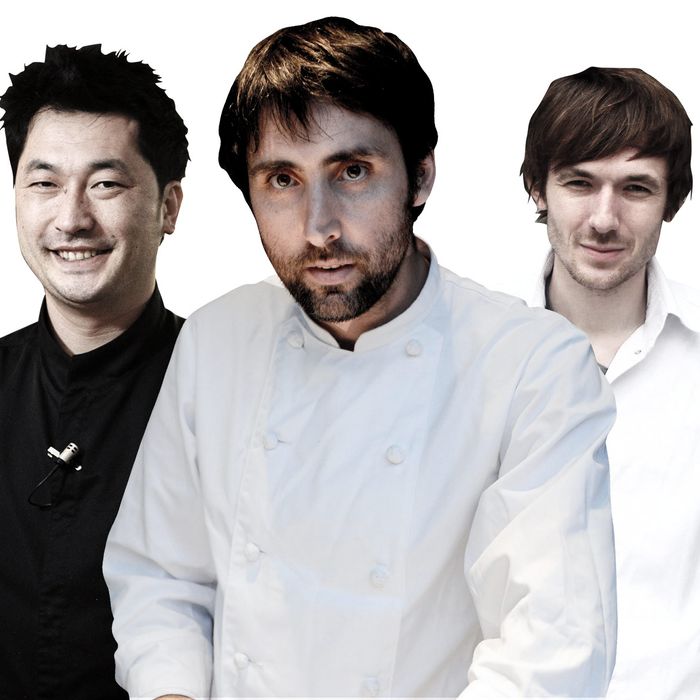 Pierre Sang, Inaki Aizpitarte, and Romain Tischenko, who were profiled in a female-free chef feature.
Photo: A. Gelebart/SIPA/Newscom, Giuseppe Cacce/AFP/Getty Images, Yaghobzadeh Rafael/SIPA/Newscom
The debate about gender in the food world isn't just an American issue: In the same week that Time Magazine dropped its notorious "Gods of Food" feature, French magazine L'Express (another news weekly) released its own story touting the "Génération New French Bistrot!" Journalist François-Régis Gaudry cited Le Chateaubriand chef Inaki Aizpitarte as the godfather of a new approach to French cuisine, and the story highlighted fourteen under-40 chefs who were following in Aizpitarte's wake. The problem, as you've probably guessed: This particular new génération included no women. But it appears that story will, perhaps unwittingly, kick-start a conversation about the importance of female chefs in France.
As commenters slammed Time for including no female chefs in its package, the French press remained unstirred by the L'Express story. But a few days later, Madame Figaro — a weekend magazine supplement in Le Figaro newspaper — published a story called "Eat Girls: La Nouvelle Génération des Chefs," which profiled five well-regarded women (four chefs and a sommelier). The story had been in the works for a few months, but the timing — just a few days after the Time and L'Express stories dropped — appeared reactive. Yet it made no substantial inquiry into the significance of being a female in the world of French gastronomy, and the featured women were photographed wearing tight black leather and red lipstick. (The men in the L'Express story, meanwhile, appeared in aprons and their own clothes.) As a result, the dual stories underscored how the different genders get treated in the media: Male chefs are portrayed as pioneers; female chefs are pinups.
 
One of the chefs featured in the Figaro report, Adeline Grattard, whose restaurant Yam'Tcha has received a Michelin star, takes issue with the way the story itself was illustrated: "I don't think it helps us — the opposite in fact," she told me. "We're not 'women.' We're chefs. Putting the female part at the forefront is a negative thing … It discredits our importance in the métier." Grattard was also frustrated when, in 2012, she closed her restaurant for three months and one website focused on the fact that it was because she was taking maternity leave: "Never, never would that [kind of information] have been revealed about a man," she says. "But the personal life a woman is always out in the open." 
 
Another featured chef, Delphine Zampetti, who owns Chez Aline, a small but beloved takeaway sandwich shop, expressed similar frustration with the Figaro piece: "We were made up and 'feminized,'" she said. "Does that help advance anything? No." So why take part in the story at all? "I did it because it's important to have press," she says bluntly. Zampetti, however, already gets a fair share of press because her partner (as a companion, not in business) is Aizpitarte, the male godfather of the L'Express story — a life pairing that highlights another aspect of France's male-dominated food coverage. 
 
"Sometimes I'm not introduced [in stories] as Delphine Zampetti," she says, "but just as 'the wife of'" Aizpitarte. She adds, "That doesn't help things evolve. And that never happens the other way around."
 
Alexandre Cammas, the founder of Le Fooding, blames another issue: Too narrow a focus on what qualifies a chef as innovative. While the L'Express list focused on what he calls "naturalist" chefs — people applying avant-garde techniques to traditional, local, French ingredients — he says that chefs like Zampetti and Grattard operate outside that space, but are no less influential because of it. Cammas calls Grattard one of the country's "best chefs," and says of Zampetti, "She is just as important in 2013 as those fifteen boys," on the L'Express list. She's "open-minded, making things that are personal and interesting. She makes sandwiches that you can't find anywhere else."
 
As if to help reverse that perception, a Le Fooding event in Paris this weekend championed eleven female chefs: Gattard, Zampetti, Camille Fourmont (La Buvette), Alice di Cagno (Chatomat), Alix Lacloche, Alice Quillet and Anna Trattles (Le Bal Café and  Ten Belles), Agata Felluga, Beatriz Gonzales (Neva Cuisine), Federica Mancioppi (Caffè dei Cioppi), and Céline Mingam (Le Galoubet  in Arles)
Over three nights, the chefs served an apéro and three-course dinner, hosted in a garage, a play on gendered space, with the waiters sporting blue workman jumpsuits. Watching those women execute their dishes during the event only reaffirms just how much L'Express and Madame Figaro (and Time) missed the mark: Marketing female chefs as clichés (pinups, mothers) who happen to cook, as opposed to chefs who happen to have lives outside of the kitchen (as is the case with males), undermines their professionalism. Even still, female chefs are forced to weigh the pros and cons of press coverage, something that rarely happens with their male counterparts.
Earlier: Goddesses of Food: 10 World-Class Chefs Who — Believe It or Not — Are Women