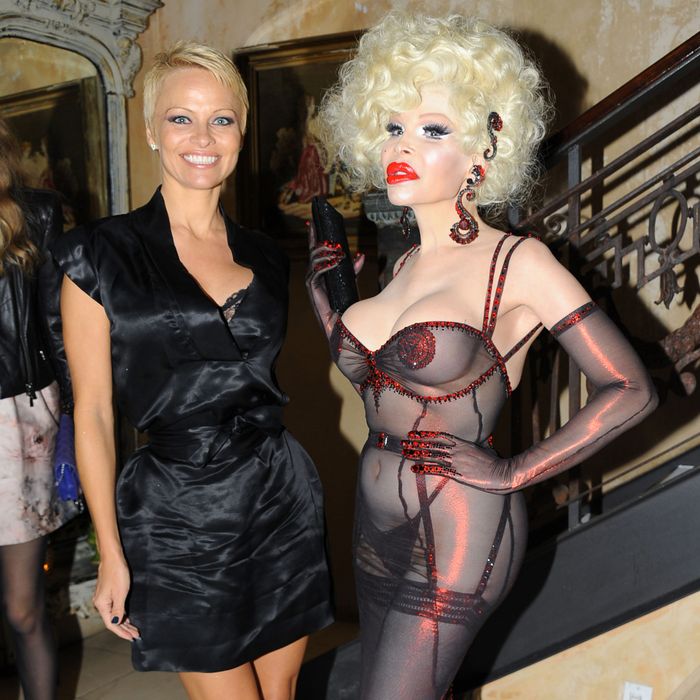 Nice new hairdo.
Photo: Paul Bruinooge/Patrick McMullan
The New York Comedy Festival brought an influx of comedians this week: Larry David did what he does best — talked — at Primola, while Bill Maher ate at Vai. Meanwhile, veterans of the New York political scene (a comedy show in its own right) Eliot Spitzer, Christine Quinn, and Huma Abedin lunched simultaneously but separately at Michael's. This, and more, straight ahead.
Cucina Ciano: Ja Rule ate with pals in the exclusive wine room. [Page Six/NYP]
Gradisca: Madonna had dinner with her daughter, Lourdes. [Grub Street]
Junior's: Adam Sandler took a cheesecake break from shooting his new indie movie The Cobbler. [Page Six/NYP]
Kingside: Tina Fey ordered a kale salad. Page Six/NYP]
Michael's: A motley crew of down-on-their-luck figures lunched simultaneously on Wednesday: Eliot Spitzer, Christine Quinn, and Huma Abedin. At another table sat Dolphins owner Steve Ross, still dealing with his team's corrosive bullying debacle. [Page Six/NYP]
Nello: Pamela Anderson had pasta and salad with beau Rick Salomon a week after running the New York marathon. Anderson compared the run to the agony of giving birth; apparently those scenic Baywatch jogs across the beach may not have been adequate preparation. [Page Six/NYP]
Osteria del Circo: Sarah Jessica Parker and Matthew Broderick enjoyed white-truffle taleggio pizza and tagliatelle Bolognese at this spot in the west fifties. [Page Six/NYP]
Primola: Seinfeld buddies Larry David and David Steinberg were spotted talking for hours after their New York Comedy Festival performance, presumably about nothing. [Page Six/NYP]
SL: Nelly went out for his birthday in the meatpacking district. [Page Six/NYP]
Stardust Lounge: Lindsay Lohan did not make a scene last Friday night. [Page Six/NYP]
Tao Downtown: For his 39th birthday, Leonardo DiCaprio channeled his inner Jay Gatsby, throwing a party that still had a pulse past 4 a.m. Alex Rodriguez, Derek Jeter, Martin Scorsese, Orlando Bloom, Tobey Maguire, and Benicio Del Toro all attended, while Kanye West performed a full concert for the occasion. [amNY]
The Four Seasons Restaurant: Emma Thompson sang various "Mary Poppins" hits at a lunch for her upcoming P.L. Travers biopic, Saving Mr. Banks. [Page Six/NYP]
The Lion: Cameron Diaz and Susan Sarandon dined separately. [Page Six/NYP]
Vai: Bill Maher followed up a live show at the Beacon Theatre with a dinner on the Upper West Side. [Page Six/NYP]
West Bank Café: Mike Tyson lunched with Danny Aiello and Paul Herman.