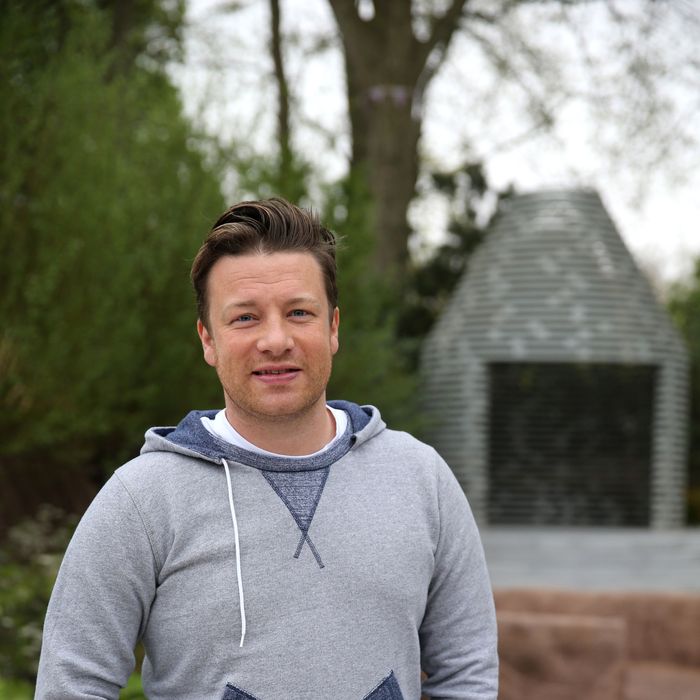 Not everyone is all that fond of Jamie Oliver, it turns out.
Photo: Chris Jackson/Getty Images
In a New Statesman piece called, plainly enough, "Jamie Oliver Represents Everything Wrong With Contemporary Britain," prolific British novelist Will Self explains his issues with the capitalistic impulses of celebrity chef Jamie Oliver, which he argues are squarely at odds with his role as an advocate for better nutritional standards among lower-income families. Self writes that it isn't just about the major cash stemming from lucrative endorsement deals and product sponsorships, but Oliver's unceasing restaurant projects that all bear all the hallmarks of insincerity. "Now they can borrow against their equity to buy bruschetta," writes Self, "while the poor saps who didn't get their plutocratic act together poke Turkey Twizzlers through the school gates to feed their morbidly obese cuckoo kids."
He goes on:

Needless to say, Oliver sticks in my craw and I'd walk a cunty mile to avoid him and all his works. What this society needs is a culture that values its eternal soul above its lemon sole and a form of social justice that doesn't depend on the tit-beating self-righteousness of charity — with all the patronising bullshit that goes along with this. Still, I don't expect Oliver to have a Damascene conversion on these matters, not while he's doing such a lovely jubbly.
Basically, Self thinks that Oliver's food revolution is a nonstarter, in no small part owing to the preachy liner notes about "yummy healthy dishes" jammed into the margins at his restaurants and pop-ups, where the chicken in the chicken salad arrives in the form of a rigid plank, the soda straws are cardboard, and the hamburgers taste "bitter."
Because the food is overpriced, writes Self, with one lackluster meal costing "20 quid more than the weekly Jobseeker's Allowance," the underlying message amounts to nothing but a self-serving "pious homily," to the point that none of Oliver's endeavors — which may be seen to include things like the chef's cartoonish Saturday morning TV appearances and inevitable U.S. expansion — seem genuine. In effect, Self asserts, the naked chef has no clothes.

Jamie Oliver Represents Everything Wrong With Contemporary Britain [New Republic]
Earlier: Jamie Oliver and Mario Batali on Michelin Stars and Jamie's U.S. Expansion Plans