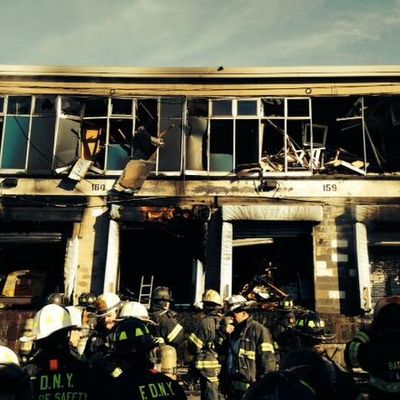 It looks bad, but business continues, and yes, they do have bananas.
Photo: Courtesy of FDNY/Twitter
A Fire Department spokesperson says a blaze that broke out around 11:15 a.m. inside a merchant's area at the Hunts Point Terminal Market in the Bronx quickly turned into a four-alarm fire that drew 175 firefighters from 40 department units to the scene. No major injuries have been reported, and while business resumed on site this afternoon, some workers are now temporarily out of work, one week before one of the busiest holidays of the year. Ahead, more photos from the scene.
@FDNY @kusduece @FDNY8231 @FDNYrescue1 @res7cuefox5 4 ALARM FIRE AT HUNTS POINT MARKET IN THE BRONX! pic.twitter.com/knHkRDYTJg— JOSEPH JOHN RAMOS (@THEMAJESTIRIUM1) November 20, 2013

@FDNY @kusduece @FDNY8231 @FDNYrescue1 @res7cuefox5 4 ALARM FIRE AT HUNTS POINT MARKET IN THE BRONX! pic.twitter.com/lcMboXBFbk— JOSEPH JOHN RAMOS (@THEMAJESTIRIUM1) November 20, 2013


Fire blazes at Hunts Point Terminal Market in the Bronx [NYDN]