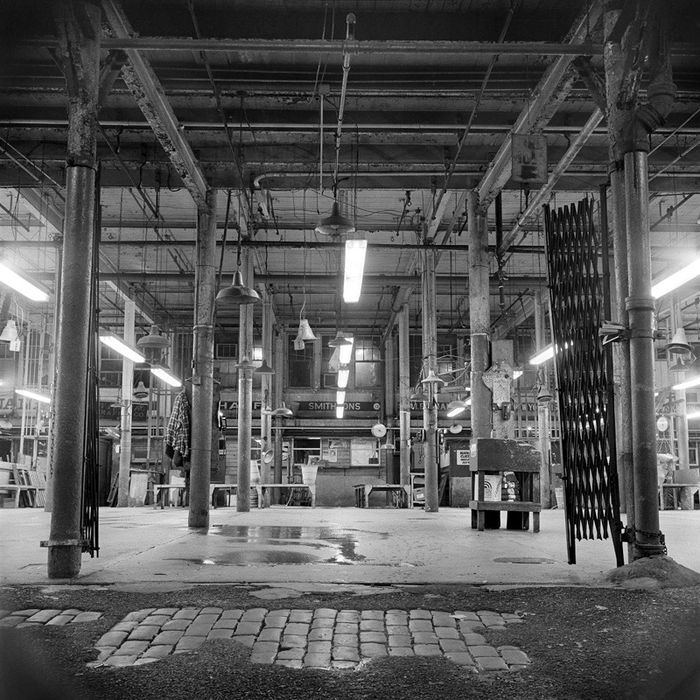 The old Fulton Fish Market Tin Building will be dismantled and rebuilt as well.
Photo: Barbara Mensch/Courtesy New Amsterdam Market
After repeated requests for transparency and a more public process from community members, representatives from the Howard Hughes Corporation will tonight openly discuss their plans for the former Fulton Fish Market buildings. The developer holds a number of long-term leases to city-owned properties throughout the waterfront area around South Street Seaport, and its current plans include the demolition of the former Fulton Fish New Market building and the dismantling of the 19th-century Tin building, which will be reassembled 30 feet eastward at an increased height to comply with Buildings Department guidelines for waterfront structures. There's that, and the proposed 50-story "hotel and apartment tower" the company intends to put up in its place.
Instead of keeping the building, which was completed in 1939 and served as Fulton Fish's headquarters until 2005, a market, as some supporters have argued it should remain, the real estate developer hopes to build a new marina and mixed-use tower. If completed, the new building will be taller than the nearby Brooklyn Bridge and will serve, according to the company, as the "economic engine" for the remainder of historic neighborhood, the Times reports.
Robert LaValva, the founder of New Amsterdam Market, which has been operating out of the site since 2005, is once again drawing attention to what he terms the "first glimpse of a ruined waterfront," beginning with the demolition of the building that remains the last extant link between the old East River waterfront and the once-thriving Manhattan market district. In addition to the loss of a crucial part of New York's food history, LaValva points out that residential towers aren't permitted in Hudson River Park on the West Side. As such, market supporters are calling for those who are opposed to the development — or at least those who have unanswered questions — to come out to the Manhattan Community Board 1 Seaport Committee meeting. It begins at 6 p.m. tonight; more details, including directions, can be found here.
Plan to Redevelop South Street Seaport Includes Marina and 50-Story Tower [New York Times]
Protest the loss of NYC's oldest public market site in continuous operation since 1642 [New Amsterdam Market]
Earlier: Can New Amsterdam Market Revitalize the Post-Sandy Seaport?
Earlier: City Council Approves Food Market-Heavy Pier 17 Redevelopment Plan