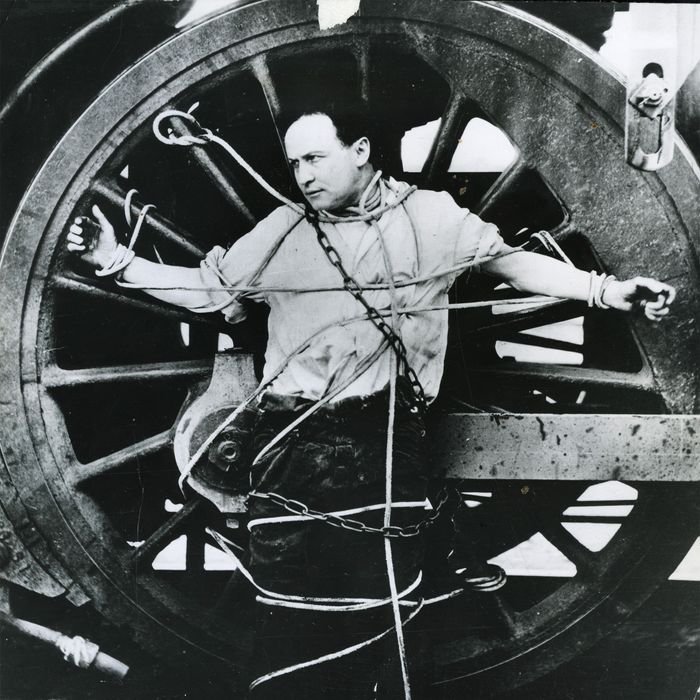 Hey, what kind of restaurant is this, anyway?
Photo: Mark Rucker/Transcendental Graphics
We're just going to assume the annual Halloween-night séance first held 87 years back as an attempt to communicate with the spirit of Harry Houdini once again returned meager results yesterday and that his custom-made figure-eight cuffs remained locked on the table, which is a shame. But some may find consolation in the news that a restaurant referencing the legendary escape artist's name has just opened at 1563 Decatur Street in Ridgewood. Its owners include Massimiliano Bartoli and Pilar Rigon, erstwhile operators of the pioneering and well-loved Miss Williamsburg diner, which turned into another venue called 718 before before a fire destroyed the old forties dining car one early morning in January of 2009.
The brick-walled restaurant features an open kitchen with a brick oven, and the menu consists (for now) of six pizzas, two salads, and three desserts. Pizza toppings include pancetta, sausage, anchovies, and fresh mozzarella.
Decatur Studios notes that Houdini Kitchen Laboratory, which is open from 6 pm. to 11 p.m. every night, will roll out a larger menu in the upcoming weeks, and meanwhile, co-owner Craig Kalpakjian told wyckoffheights.org that he hopes to eventually open a bar in the basement. Houdini, who is buried in nearby Machpelah Cemetery, didn't drink, but probably would have appreciated the gesture.
Eating and Drinking [Wyckoffheights.org]
Houdini is open! [Facebook]