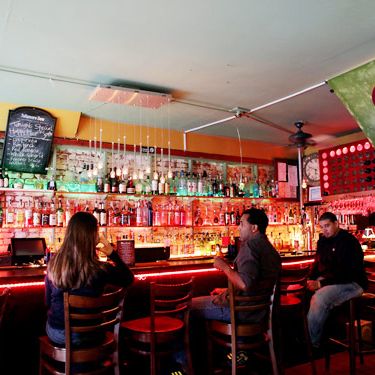 Welcome to the post-Heathers Heathers.
Photo: Kathryn Yu
Well-loved bar Heathers bid farewell to the East Village late last month with a handwritten note from the owners attached to the door saying that Heathers was closed for the foreseeable future and they would "explain the crazy story later." It turns out the East Village bar had been abruptly shuttered a month ahead of its planned closure; its liquor license hadn't renewed for November, there had been some disagreement among the partners, and, well, it seemed like the end of Heathers. But now, although a new name hasn't been chosen, two of the bar's partners have regrouped and set up shop just a few storefronts westward on East 13th Street, in the space formerly known as Mug Lounge.
Partners Michael Herman and Ray Lemoine soft-opened their new venue, which has taken up residence inside M. White Bar, at 448 East 13th Street. "We found a larger room close by that could offer the same aspects we've grown to love at Heathers," Herman says, of the white-tiled space.
The pair pulled only a few pieces of furniture from the old bar for the new endeavor. In the meantime, they've painted the main room black, though the personality and character of Heathers was immediately present in the new space. (In the absence of an official name, some were calling it "Post-Heathers.") Two weekends ago, D.J.'s played obscure electronica; later, the sets switched over to guitar-heavy tracks and local band Starred performed live. Last weekend, ascendant rapper Chinx Drugs performed a late-night set.
M. White Lounge owner Michael White remains onboard, and tells Grub Street that the new, revamped venue, which has a larger square footage, will be able to comfortably accommodate the growing clientele Heathers was attracting across the street. It seems to be going well, at least so far.
"It was very fulfilling getting a chance to play for the whole Heathers circle," says Starred's Matthew Koshak, who happens to be the resident D.J. "They're the ones that are closest to us and support us most."

Earlier: Heathers Is Closed, Possibly Forever