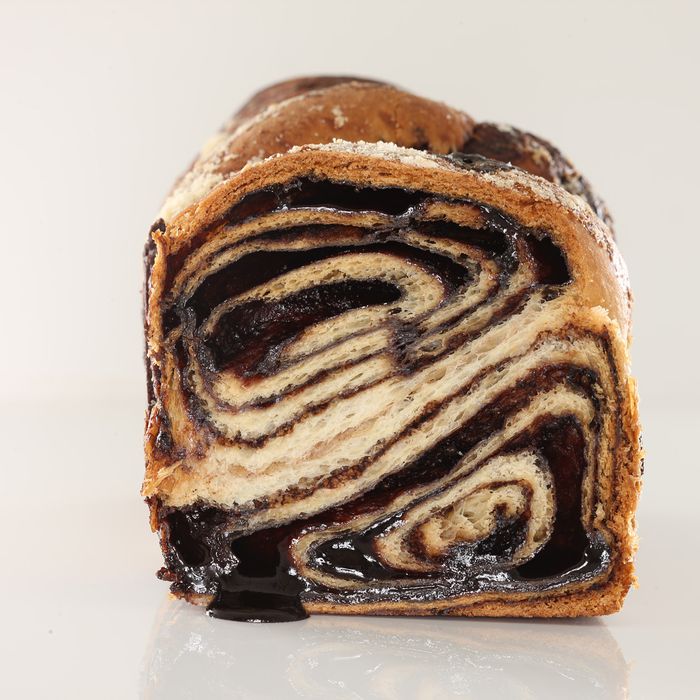 No matter where it comes from, Green's chocolate babka is dead sexy.
Photo: Melissa Hom
Recently, a friend and I were debating whether Russ & Daughters or Dean & DeLuca has the city's best babka. After a little digging, we reached a curious conclusion: They sell the exact same product. As it turns out, both shops, and plenty of other places, are supplied by Green's, a small, family-owned company based in Williamsburg that also creates custom packaging so that retail outlets can pass off the babka as their own recipe.
The thing about Green's babka is that it's more or less perfect: yeasty, marbled bread braided with layers of rich chocolate or gooey cinnamon. Babka — a marriage of bread and pastry — is the original hybrid dessert.
But who are the babka masters behind this cloak-and-dagger bakery? Green's 61-year-old owner is Joseph Ackerman, who uses an Eastern-European recipe handed down from his mother-in-law, Mrs. Chana Green, who emigrated from Hungary to the U.S. after World War II. In 1985, Ackerman went commercial: He began making babka in a small Brooklyn basement and opened Green & Ackerman Restaurant, where he sold it directly to customers. By the late eighties, he had to move the bakery to a bigger location on Franklin Avenue to keep up with demand — and expanded his business to sell to wholesale clients like Katz's Deli, Dean & DeLuca, and Russ & Daughters. Now, chains such as Whole Foods, Fairway, and Wegman's all sell Green's babka around the country. (And customers can buy it online directly from the bakery.)
Ackerman's 40 workers bake and hand-braid 3,000 to 4,000 babkas per day, and the only change Ackerman has made to his original recipe has nothing to do with his expanded business: He no longer uses partially hydrogenated oil because of Mayor Bloomberg's trans-fat ban. Surprisingly, there's also no butter or dairy in the recipe, and it's certified kosher.
Babka doesn't need all the filler ingredients and preservatives that other mass-produced foods do: Green's product is made with flour, sugar, palm oil, water, whole eggs, cocoa, yeast, vanilla, salt, and nothing else. Babka's built for baking in large quantities, shipping, and, since loaves stay fresh for six to eight weeks, shelving. And when it hardens: French toast!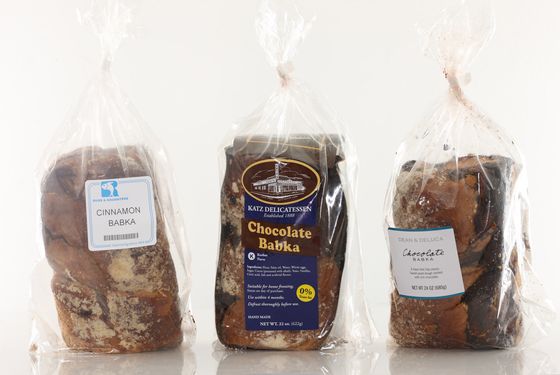 They're all the same.Photo: Melissa Hom
Green's charges wholesale customers $8.50 for each babka loaf, and the shops are free to mark it up as they see fit. Katz's Deli prices it at $14; Dean & DeLuca sells "its" babka for $13.50.
Ackerman's business partner (and son-in-law) Martin Werzberger says that the business is extremely profitable, but he still has further ideas for expansion. "We're thinking about selling it in individual slices," he says. "Maybe we can get it into Starbucks, Trader Joe's, and all the snack places."
If that happens, you probably won't see the Green's logo on those slices, either. The Ackerman family doesn't care who receives credit for the babka, as long as Green's makes it. "We're always asked who our competitor is," Werzberger says. "We don't have competitors. We have copiers. That might sound conceited, but we're the best."
An expansion to Israel and Europe is also in the works, and one of Ackerman's thirtysomething-year-old sons is poised to take over the business. But don't expect Green's to rebrand as Ackerman & Sons or some other derivation. "We're trying to keep things the same," insists Werzberger. "Why change what works?"
Green's most essential babka business strategy remains constant, at least for the time being: "If you want to do it well, you should do it by hand — and put a lot of chocolate in it."