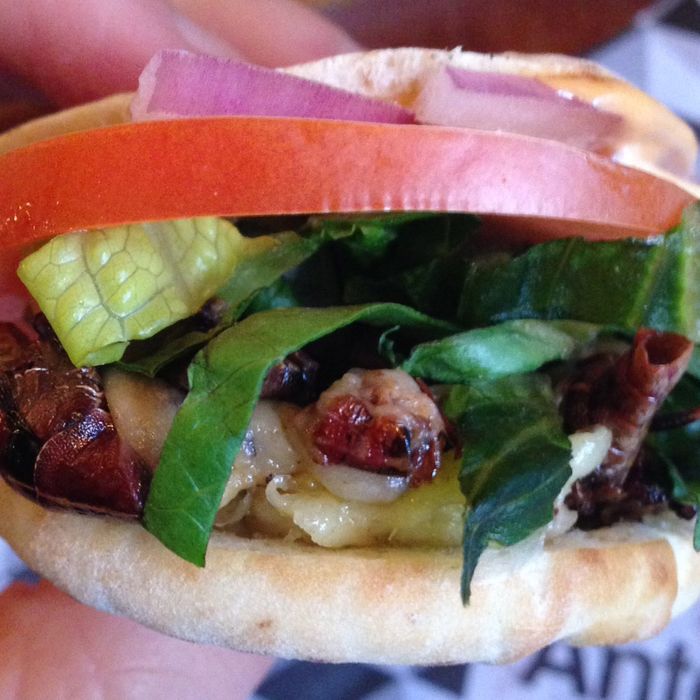 Those aren't crispy-fried onions.
Photo: Courtesy of Antojeria La Popular
Although everyone says it's the future, the art of cooking (and eating) insects has yet to take off in New York in a mainstream way, as compared to, say, Mexico. But over the weekend, a bold step toward eating more bugs was taken when the artist Pedro Reyes served grasshopper hamburgers to the 193 "delegates" assembled as part of the People's United Nations, a two-day event held at the slick new Queens Museum in Flushing Meadows Corona Park. The experimental art summit may be over, but you can experience bug burgers — crunchy exoskeletons and all — for yourself by heading over to Antojeria La Popular in Nolita.
The genesis of this particular grasshopper burger, or Grass-Whopper, as Mexican artist-creator Reyes dubs it, involved paying tribute to the organization's origins in the borough — the museum site was home to the United Nations General Assembly from 1946 to 1950 — and to address, of course, all those recent white papers indicating that everyone should be eating more bugs. Grasshoppers in particular, which also happen to be good fermented into a fish-sauce-like condiment, may someday soon replace beef in your Big Mac.
So, amid all of the day's artsy games and discussions on global matters, the 193 "delegates," who represented member and observer states of the actual U.N., were served the Grass-Whopper. At the center of the chipotle-mayo-topped sliders are the patties, which are juicy and crunchy. Queso Chihuahua was used to bind the ground, seasoned grasshoppers, giving the whole thing a crumbly, veggie-burger-like texture. The wheat pitas are also packed with onion, romaine, and, of course, heirloom tomatoes.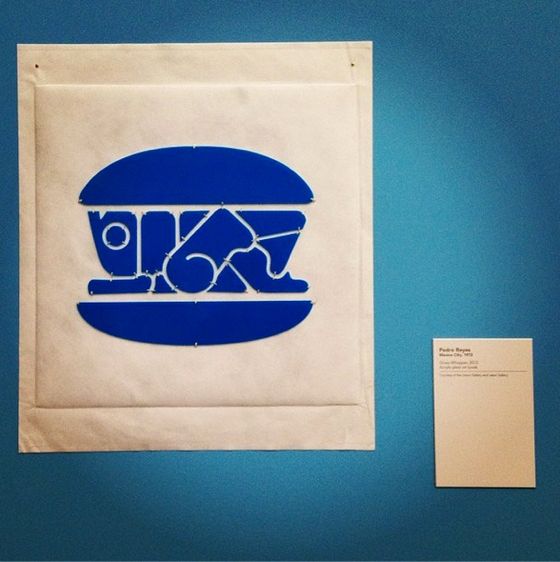 Have it your way: The Grass-Whopper logo looks suspiciously like another, more famous fast-food-logo.Photo: Antojeria La Popular

It turns out it's not just art dignitaries who are eligible to try this, either: The recipe has been perfected, and the Grass-Whopper arrives at Antojeria La Popular starting today, where it will grace the menu for the next few months. At $14.25 for three slider-sized burgers, you can even treat your friends.
Antojeria La Popular, 50 Spring St., nr. Mulberry St.; 646-476-3567
Earlier: 8 Reasons Why Some People Think Bugs Are the Food of the Future