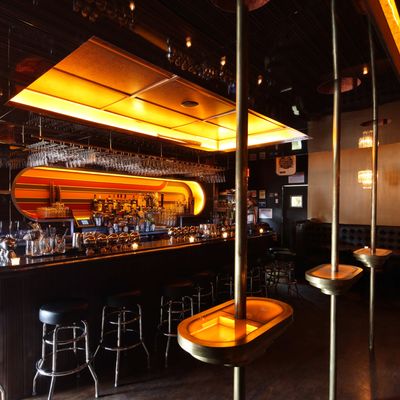 Giuseppe is no longer behind the wheel at Golden Cadillac.
Photo: Melissa Hom
One of three principals at Golden Cadillac, the long-in-development East Village cocktail bar that finally opened just three weeks ago with a flash of retro glam and grit, has apparently left the building. Reached by e-mail this morning, Giuseppe Gonzalez confirmed to Grub Street that he is no longer involved with the bar, but declined to get into specifics about his departure.
With his partners, the former PKNY and Clover Club bartender developed and refined the concept for Golden Cadillac for the last three years. Gonzalez's departure is a blow for the future of Buttery Nipples and Hot Grasshoppers, part of the arsenal of misunderstood seventies drinks — a sort of lost generation for cocktails that was sandwiched between the age of pre-Prohibition drinks and the onset of the Fuzzy Navel era, where crème de cacao, Red Dubonnet, and Galliano flowed unironically from countless jiggers — that are now served at the bar. "You tell me that there were people who were barmen in the seventies who didn't care about their craft, I'll tell you no. It was just a different world," he told the Times earlier this month.
Earlier: What to Drink at Golden Cadillac, a Seventies-Themed Bar on the Lower East Side