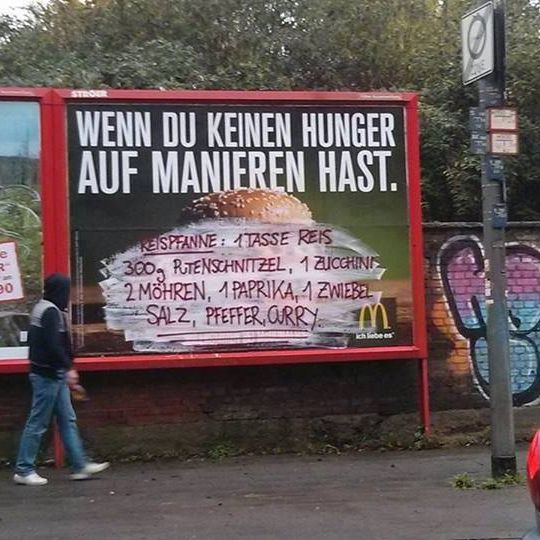 According to a translated version of this site, someone's been going around Germany and scratching out ads for Big Macs and Burger King's chicken sandwiches and painting simple cook-at-home recipes on top. So far, there's been a rice dish and a pasta. Is this the work of vegan anarcho-syndicalists? Not likely, because meat is on the table. Guerrilla marketing for the new Allrecipes magazine? Probably not. Whatever it is, here's hoping the recipe bandit can post soup and salad courses without getting caught.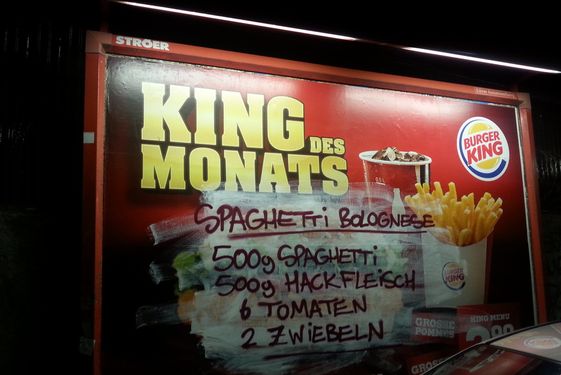 Personally, we'd make it equal parts pork and beef hackfleish, 600 g. total, and maybe some pancetta, too.Photo: Leka at Soup

Kraftfuttermischwerk points out that the Bolognese recipe is missing diced carrot and celery. Mario Batali would add some milk and cheese, too. But that's nitpicking.
Adbusting: Rezepte auf die Plakate von Fast Food Unternehmen schreiben [Kraftfuttermischwerk]