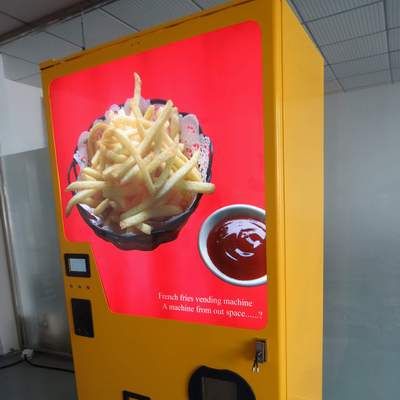 "A machine from out [sic] space … "
Photo: Beyondte Electronics Co.
Behold the Robo French fry machine, an innovation so advanced the New York Post has dubbed it the "Rolls-Royce of vending machines." (This, of course, makes the caviar ATM a Bentley and the cupcake vending machine something like a really nice Nissan.) The contraption reportedly does not use black magic to deliver hot fries in 95 seconds, and several machines are allegedly already headed toward Iran, Croatia, and Chile. Your country is probably next.
The 750-pound novelty is the latest release from Beyondte Technology, the Shenzhen Province, China-based manufacturer of "self-help equipment," metal trackballs, and, um, miscellaneous kiosks. Beyondte says the technology has been in development for five years, and after field tests last summer in Brussels, where no one fronts on frites, the totally nonlethal FF-800 is finally ready to ship. Just check out this promotional video, filmed in crowd-pleasing shaky-cam style.
It even dispenses French fry sauce!
Of course, the secret to any successful world domination is demanding high standards: The company warns potential franchisees on its website that this machine — which can dispense 150 portions before it needs servicing — is totally not self-degreasing: "All this must be cleaned like the McDonalds and KFC shop inside," the website notes. "If you can not keep this, the sales may decrease 50%."
Got it. We'll take two.
World First French Fries Vending Machine Invented [PR Newswire]
Related: Now L.A. Has Its Own Caviar ATM!