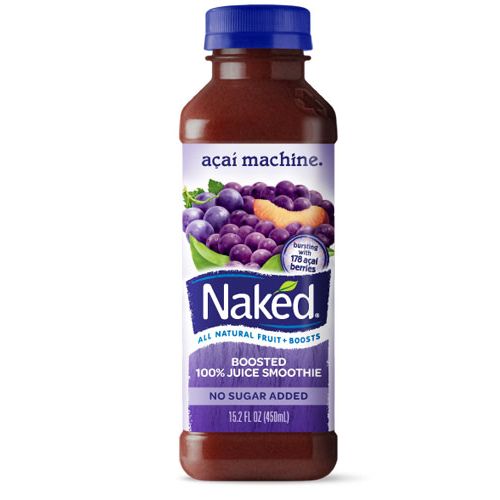 Unnaturally Naked.
Photo: Courtesy of Naked
After a slew of lawsuits, major food brands are finally starting to drop the "natural" claims from their products' labels. Why? Well, people are onto them and realize that the word is more or less meaningless: The vague term has defied standardization, and where at first food companies took this as an opportunity to slap the healthful-sounding term on everything, that effort has apparently backfired, leading to a series of false-advertising claims that are getting expensive. Now, The Wall Street Journal notes, "natural" labels are coming off the packaging of Campbell's Pepperidge Farm Goldfish, a host of Frito Lay snacks, and PepsiCo's Naked Juice, which recently settled one of those pesky lawsuits. And while the labels are quietly disappearing, the actual products are staying more or less the same.
So, why not just regulate the term? The FDA dodges the question of what is natural, stating on its website that "it is difficult to define a food product that is 'natural' because the food has probably been processed and is no longer the product of the earth."
Food companies are writing off the quiet changes as merely part of the process of "constantly updating" labels, as a Frito Lay spokesperson tells the WSJ. But it seems the reality is simply that consumers are getting savvier, and any wholesomeness that this kind of slippery health-washing lends a product or its packaging is more trouble than it's worth.
Some Food Companies Ditch 'Natural' Label [WSJ]
Earlier: Naked Juice Settles 'Freshest and Purest' Class-Action Lawsuit
Earlier: Food Companies Tricking Customers by Making Processed Products Look More Natural and Wholesome