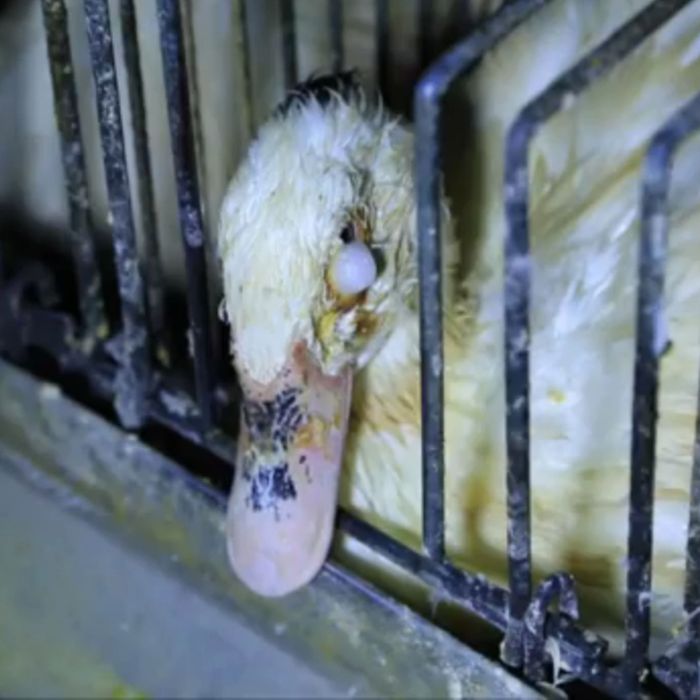 Animal-advocacy groups are pressuring Joël Robuchon, Alain Ducasse, Gordon Ramsay, and other top chefs to stop serving foie gras after the release of a video shot in secret at supplier Ernest Soulard's five farms. Various sequences in the five-minute video depict ducks that are covered in filth and are otherwise confined to feeding cages; some have open wounds, others have abscesses and shake with distress. Throughout the video, several animals lie dead in along the production line.
The process of force-feeding ducks raised to produce foie gras called gavage is typically at the center of animal-rights groups' arguments. The video of deplorable conditions, which was last month used by activists in a successful bid to convince Amazon U.K. to halt sales of foie gras products site-wide, is now being used to target top restaurants like Le Fouquet's and Lenôtre in Paris, which reportedly source foie from Soulard. You might not want to watch it if you were planning to tuck into a terrine tonight.
Typically, those who seek to defend foie gras consumption do so by taking aim at toppling activists' anti–foie gras arguments — namely, that with so many food injustices, like factory farming, happening on a much greater scale, why focus on such a small segment of the food industry that tends to cater to a population of eaters who already care deeply about food and its source? Perhaps unsurprisingly, Anthony Bourdain once defended domestic foie gras production in a No Reservations episode, by touring the grounds of a Hudson Valley producer and concluding not only that the animals were well-cared-for, but it'd be clear if they weren't. "Unhappy stressed-out animal equals foie gras that neither me, nor anybody I know, is buying," he says.
But if that's the general sentiment among ingredient-quality-minded experts, why haven't Ducasse, Ramsay, and the others rejected what would then be inferior foie gras hailing from producers who are apparently engaging in some form of cruelty to their animals? It's well-known that the taste of fish can change dramatically based on the amount of stress the animal experiences at the time of death, so it would follow that something similar would also be true of mistreated ducks. Is there really a discernible taste difference between foie gras produced under conditions of cruelty and foie gras produced from happy, free-roaming, yet still force-fed ducks?
In any event, Gordon Ramsay responded to the video by temporarily halting all supply from Soulard. "We have only just been made aware of these allegations but as a precaution have suspended purchasing from this supplier while we investigate further," a spokesperson for his restaurants tells the Mirror.

Call for top chef foie gras boycott [Connexion France]
Cruelty of chef Gordon Ramsay's foie gras supplier exposed in shocking footage [Daily Mirror]
Related: 'It's Total F-cking Bullsh-t,' and Other Foie Gras Feelings
Related: How Does Alton Brown Really Feel About Foie Gras?
Related: French Government Unhappy With Amazon U.K.'s Ban on Foie Gras