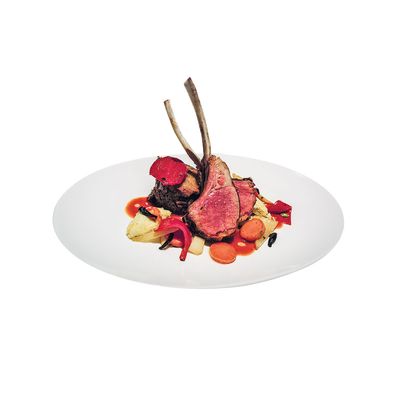 Lamb, rack grilled, shank braised, housemade ricotta gnocchi, sweet piquillo peppers, and black olive.
Photo: Sarah Silberg/New York Magazine
Just a year after their stint at Le Midi in Greenwich Village, front-of-the-house force Tina Vaughn and her chef husband, Chip Smith, have reemerged on the Upper East Side, housemade terrines and housebaked bread in tow. Their new location is a bit of a throwback not only to a more genteel era in New York's fine-dining history, with hand-lettered menus and white tablecloths, but to Bonne Soirée, the couple's former French restaurant in Chapel Hill. And here, wine importer Neal Rosenthal, whose old-world repertoire dominates the list, plays an even more crucial role: He introduced Smith and Vaughn to their business partner, Robert Margolis, a retired Litchfield County restaurateur looking for a new project. No wonder the trio named the space after a Rosenthal wine: Provence's Château Simone.
The Simone, 151 E. 82nd St., nr. Lexington Ave.; 212-772-8861
*This article originally appeared in the November 25, 2013 issue of New York Magazine.