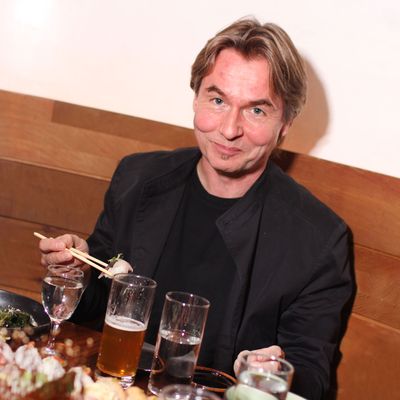 Relaxing after a performance at Blue Ribbon Sushi Bar & Grill.
Photo: Melissa Hom
"it's kind of tough, this kind of life," says conductor and prolific Finnish composer Esa-Pekka Salonen, who spends much of his time flying around the world, "with traveling across time zones and being jet-lagged, late meals and a lot of restaurant food." His strategy for dealing with it: "I can try to eat reasonably healthy. I'm not a health fanatic, but I like food that doesn't make me tired." Salonen, who currently leads London's Philharmonia Orchestra and is in New York this week for a series of New York Philharmonic concerts (which will feature the local debut of his own violin concerto), has another eating strategy when things get really rough: Ikea. "They bizarrely have a very good selection of Swedish foods," he says, "which are much like Finnish foods — if I feel the pangs of homesickness, I'll go there and get meatballs and gravlax." There weren't any Ikea trips for Salonen this week, but he did manage lunch in L.A. with Frank Gehry, a trip to Boulud Sud, and, of course, a few pieces of his beloved Finnish rye bread. Read it all in this week's Grub Street Diet.
Friday, October 25
My breakfast was a fried egg and avocado with Finnish rye bread, which is vastly superior to any other kind of rye bread, I'm happy to report without any kind of nationalistic fervor.
That day I was conducting in L.A., so I went to a dress rehearsal after breakfast, and I stayed downtown for lunch because I didn't want to fight the afternoon traffic. I had sushi, just some takeout that the people in the office brought in for me, from Sugarfish. Then I did a concert with the L.A. Philharmonic, and there was a post-concert talkback event. To be back in L.A., it took me straight back to my very last weeks with the orchestra as the music director. When the concerto first premiered, it was I think the penultimate week of my tenure, and of course it was a highly charged time emotionally. But I'm just very happy to see the orchestra again; it still feels like a family, even if I haven't been in the hot seat for years. It was nice to connect with the hall again.
I had dinner in Patina, the restaurant inside the concert hall, with Frank Gehry. We worked together on the Walt Disney Concert Hall project, which took fifteen years before it was up and running, so we're very close friends. And Leila Josefowicz, who played my violin concerto and will play it in New York, too, was there. I had a Coleman Farms salad with red-wine vinaigrette, shaved root vegetables, and Parmesan. Followed that with Atlantic black cod and some bean I've never heard of. Tarbais beans. And Ibérico ham and almond milk, believe it or not. And then I had a little piece of chocolate cake, which I do rarely, but anyway, that was it.
Saturday, October 26
I had brunch in Brentwood — eggs and pastrami — with a gentleman who works with the Orchestre de Paris, at Farm Shop. It's in the Brentwood Country Mart. My wife and I are currently looking for a home in L.A., so we were out looking at a couple of houses, then for lunch I just had linguini alla olio e pepperoncini, again in Brentwood, at Louise's Trattoria. After lunch, I had a little nap.
And then I went to downtown to do a concert that night. I had a very late supper with my wife in Brentwood afterwards, basically bar snacks — quesadillas, salad, this and that — at another place in Brentwood, and the restaurant is actually called Brentwood.
Sunday, October, 27
We were planning to have brunch in one of the popular places on the west side, but they were all so busy, and I had to go to downtown for a matinee concert, so we ended up sitting outside Whole Foods, at the metal tables by the curb, and I just bought a vegetable sandwich with a coffee.
When I'm working like this, I consume way too much coffee. I do love it, like all Scandinavians. I think statistically the Finns are the biggest coffee drinkers in the world, and I'm not sure why that is. But it's a huge part of the culture.
Then I went to the matinee, packed up, had no lunch, and went back to the west side for a takeout sushi dinner from Nagao. It's one of the sort of old established sushi places on the west side in L.A., and it's kept its quality. And then went to the airport to take the red-eye to New York. I had a glass of rosé and just tried to sleep.
Monday, October 28
No breakfast — I decided I'd rather sleep in instead.
For lunch, I had an egg sandwich at Le Pain Quotidien by Lincoln Center, and then did my rehearsal with the New York Phil.
After that, I did an open talk in the Rubenstein Atrium, across the street, basically talking about this week's programs and so on.
We had dinner after that with some people from the Philharmonic, including some supporters of new music, and some other friends of mine. We went to Boulud Sud, and I had swordfish. There were some communal snacks, nibbles, at the table, like fried artichokes, some tabbouleh and falafel and hummus to start. It was really good, very sort of vibrant tastes. It's bold cooking, I would say.
Tuesday, October 29
I made my own breakfast, which I am happy to report. I boiled an egg, and it turned out almost all right. And I had a piece of toast and some cheese with that. It was an impressive feat.
Then I went to rehearsal. I had a double rehearsal with the Philharmonic, so they just brought me some takeout sushi for my lunch break.
Afterwards, I had dinner with a couple of friends in, what's it called, the little Italian place on 67th. Nick and Toni's. I'd also managed to work out before dinner, which I haven't been able to do for a long time. After which I felt a steak was in order. And with the steak, just some Brussels sprouts. I am like a Brussels sprout fanatic; I could spend my entire life eating Brussels sprouts. Mankind divides into two different segments in my eyes: people who love Brussel sprouts and people who don't.
Wednesday, October 30
I had some berries and yogurt for breakfast, then went to rehearsal, and lunch won't be too ambitious.
Tonight, after the concert, dinner is with my publisher, and a Finnish colleague and friend of mine.
I have to do the concert before I can contemplate eating, but the plan is Blue Ribbon Sushi — more fish! It would take more than a lifetime to eat oneself through New York, but it would be a very enjoyable way to spend a lifetime.