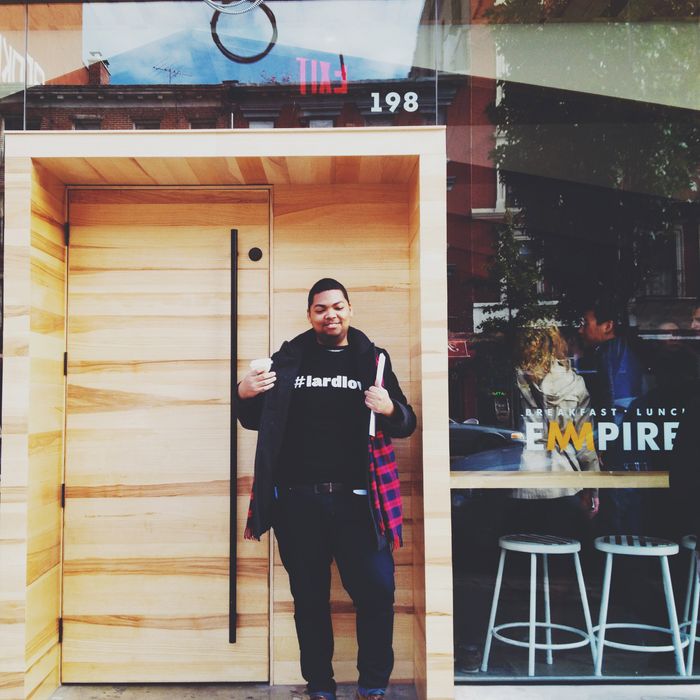 The only biscuit shop with its own doorman.
Photo: Khushbu Shah
Last Wednesday, New York got its very own 24-hour biscuit restaurant. Word traveled fast, and people showed up at Empire Biscuit's Avenue A location in droves. In fact, owners Jonathan Price and Yonadav Tsuna were overwhelmed by the response and had to shut down for a few days to regroup, ramp up production, and hire additional staff in order to deal with the crowds. But when Grub Street stopped by on Sunday for the grand reopening, it seemed that temporary setback did nothing to slow demand.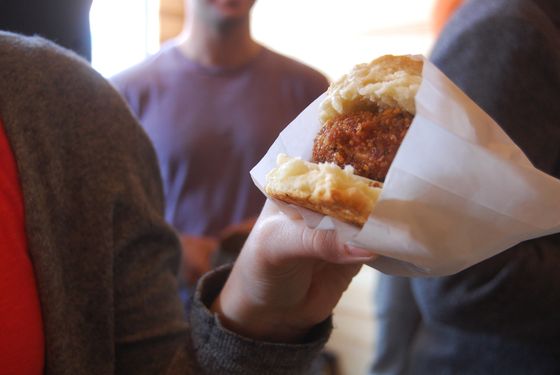 This is what you want.Photo: Khushbu Shah
The shop opened at 8 a.m., and the line was out the door by eleven. It remained 30 people deep throughout the afternoon. An employee was dispatched to the door to control traffic flow. The wait, about 25 minutes, didn't put people off, either: "I've been waiting ten fucking years for New York to get some real biscuits," said one Southern customer. "This is nothing."
Leading up to the first opening, Price and Tsuna prepped what they thought would be enough biscuits — both "country style" and an all-butter version for vegetarians — for three days of 24-hour operation. Instead, they sold out in half a day. "It's a great problem to have," Price says. He adds, "I don't think people have realized we make basically everything in-house … We even smoke our own hams. There are only so many hams we can smoke!" Price says work on the restaurant began about a year ago, meaning the owners have developed seasonal variations (look for biscuits with grilled-corn butter next summer).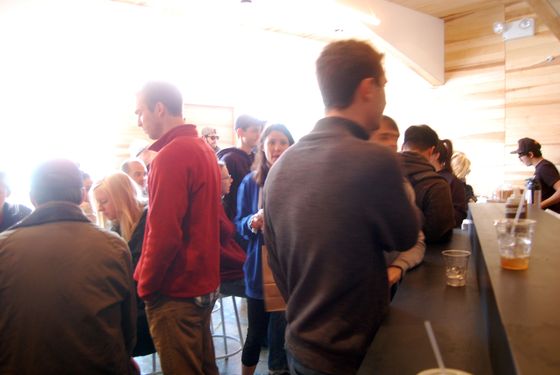 The scene inside.Photo: Khushbu Shah
Curious and hung-over East Village residents made up the bulk of the line on Sunday, but a handful made the trek from the other boroughs, including Staten Island, solely for their share of the flaky-biscuit action. A couple from Queens set aside their plans for a Netflix binge in favor of trying the fried-chicken biscuit, explaining that "finding a really good version is surprisingly difficult in New York City."
By 3 p.m., the shop was sold out. Price and Tsuna say they still plan on shifting to 24-hour operation eventually, it just might take a couple of weeks to get there.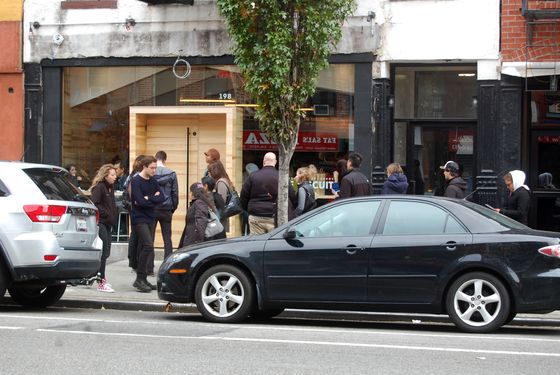 The line outside.Photo: Khushbu Shah

Related: Here's Biscuit Porn From New York's First 24-Hour Biscuit Restaurant
Earlier: Empire Biscuit Not Flaking Out, Just Needs a Little Time to Regroup