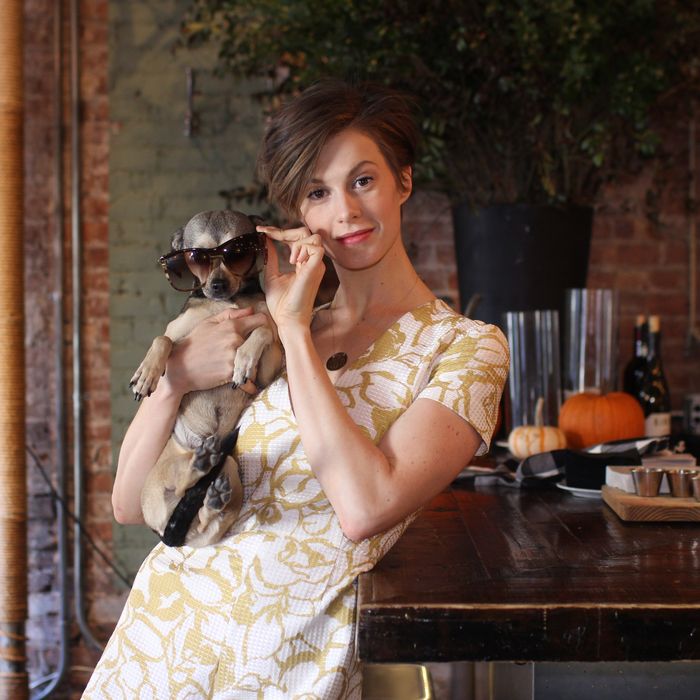 Wiedemann — and her date, Happy — at Whitehall.
Photo: Melissa Hom
"I try to be thoughtful about what I'm eating and putting in my body," says model Elettra Rossellini Wiedemann, the host of Vogue's cooking video series and Self's new contributing columnist. "Since my job is to be a certain shape and size, it's better for me to control what I eat through cooking for myself." Fortunately, she picked up a few tricks while traveling the world with her family (including her mom, Isabella Rossellini). "I lived in so many different places, and part of my discovery of those places was to go to markets and experiment. I wouldn't say that I'm a great cook, but I love it." This week, in between early-morning swim classes and tons of meetings, Wiedemann found time to whip up black-bean pasta, a sausage-and-egg breakfast sandwich, and chicken salad for herself. Read it all, straight ahead.
Friday, November 15
At 7 a.m., before my kettle-ball conditioning class, I had coffee and green tea. I make my coffee in a Moka, an Italian screw-top coffeemaker that you put on a stovetop. It makes really strong espresso, which is lovely. I had just returned from Shanghai, so I was really jet-lagged. I don't usually pair up espresso and green tea, but I needed that extra push.
I've been feeling under the weather because I've been traveling quite a bit, so I had a Ginger Fireball from Juice Press. It has pepper, ginger, and colloidal silver, which people say is good because it attracts all the bacteria in your body, and then you basically pee it out. It works! I felt shitty, and then the next morning, I felt a lot better. I also made scrambled eggs on toast. If I do a workout, I try to eat a high-protein meal afterward.
I was home working all day, researching a new project, so I had time to make myself lunch. I made black-bean pasta with tomato sauce, kale, and lots of garlic. It was delicious.
I try to stay really light on wheat and dairy products — not because I'm allergic, but just because I feel more clear-headed. I feel like it's a little crazy to be one way about anything, so sometimes I indulge and let myself relax, especially because I travel so much. If you say to someone in Paris that you're dairy- or gluten-free, they don't know what that means.
I hosted an event for the Cradle to Cradle Institute, and I always get nervous before making speeches. I was feeling anxious, so I just had the roasted-beet salad, a few bites of beef bourguignon because it was too heavy for me to deal with, and a glass of red wine.
Saturday, November 16
I had a large espresso at 7:30 a.m. before my 90-minute master-swim-team practice. Saturday classes are always really intense; we usually swim about 4,000 or more yards. I always start eating my arm during the walk home from the gym, and I came home and made this triple-decker, crazy breakfast sandwich: home-cooked chicken-and-spinach sausage, two fried eggs, avocado, and ketchup. I was still hungry afterward, so I had a small bowl of Udi's granola with almond milk.
For a late-afternoon lunch, I had another Ginger Fireball drink. Juice Press sells an awesome vegan butternut-squash-coconut-quinoa soup, which is a go-to that I get when I'm feeling rushed, busy, or lazy. It's rich and filling.
Dinner was an epic feast at Locanda Vini e Olii for my friends' joint birthday celebration. I had a glass of wine before I ate, which is always stupid because then you lose all self-control. But I felt great, and I needed a night to be off. Everything was served family-style, so had four different apps, crostinis, three different pasta dishes, steak, two glasses of red wine, almond cookies, and ricotta cake. My mom raised to me to think that it's bad luck not to have at least one bite of someone's birthday cake. I think that's true. It's not nice to keep yourself out of the festivities.
Sunday, November 17
I woke up with a carb hangover, so I just had espresso for breakfast. I didn't eat until about four in the afternoon. I went on a long walk with my dog, Happy, to Opening Ceremony and bought a bunch of sweaters. In the back of the store, they had a juice bar. I had a juice made of coconut milk and meat, dates, dulse, apples, spinach, collard greens, and celery. It was exactly what I needed.
I walked to Chelsea Market and picked up at a vegan sushi roll at Beyond Sushi, one of my favorite places ever. It was the Sweet Angel: sweet potatoes, asparagus, and noodles in rice paper. It's so genius.
I picked up miso soup from the Lobster Place for an early dinner with my husband, and I made steamed salmon. I also sautéed some kale with garlic, Meyer lemon, and chili peppers. Nice and light. But then, of course, around 8:30, I got peckish right before Homeland, so I had a Dickson's Farmstand chicken leg with a smidgen of Kewpie mayonnaise, which is my favorite.
Monday, November 18
At 7 a.m., before kickboxing, I woke up and had a coffee. Afterward, I had the Blue Green smoothie from Juice Press, and I made leftover salmon with an over-easy egg on top. I'm into buying groceries at the beginning of the week, and absolutely eating through everything by the end. I'm always trying to think of creative ways to use leftovers.
I was running around for meetings and errands, and I didn't have lunch. When I got home in the late afternoon, I had Meyer lemon tea and a small bowl of baked white beans, quinoa, lentils, and Super 4 chia-seed chips. That was perfect and light.
I hosted an intimate dinner at Café Select. My phone got photographed in French Vogue, and Samsung asked if I would want to do an event. I don't really like to do events because everyone has an event these days, so we did a dinner party for my close friends and no press. I had a nice salad, some charcuterie, branzino with sautéed greens, and about a glass and a half of red wine.
Tuesday, November 19
I had early morning meeting uptown, so at 6 a.m., I had an "espresso e via," as they say in Italy. Espresso and hit the road!
I finished my meetings uptown in time to make it to afternoon one-hour swim class, even though I felt miserable doing it. I hate wasting food, so I cooked up a breakfast with what was left in my fridge: two eggs over easy. I chopped up some kale with avocado and made a dressing out of tahini, extra-virgin olive oil, a squeeze of lemon, and balsamic glaze. It was delish!
In the afternoon as a snack, I had handful of Super 4 chips, green tea, and a clementine.
I went to the CNN Heroes event in the Natural History Museum, which was fantastic. Dinner was a salad with walnuts, and I asked for vegan option, which was a lovely, gluten-free, vegan lasagna. It was really inspiring.
Wednesday, November 20
I woke up and had coffee, a slice of toast, and cooked three eggs over easy.
I'm a contributing columnist for Self for 2014, and they threw a lunch for me and a bunch of their staff at Whitehall, which is my husband's restaurant. I had vegan sweet-potato soup and vegan vegetable curry, which I get all the time. I can eat something rich and yummy without ordering something totally decadent like a burger or a steak.
I have my first night at home in a long time, and I'm really excited. I have leftover mixed lettuces and kale in my fridge, and a Dickson's Farmstand chicken. It's a miracle because my husband and I usually demolish the chicken the second we get home. I'm going to shred the meat and try to make a tahini-based Caesar dressing, if I can figure out how to get the flavors right.