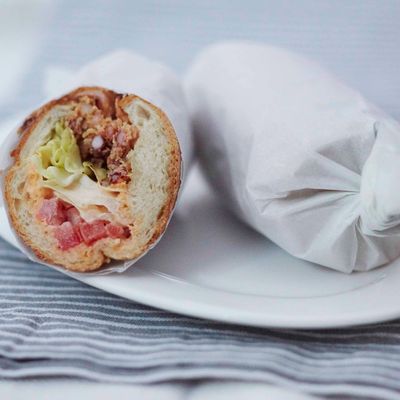 The Bocadillo de Calama, a.k.a. fried-squid po'boy.
Photo: Ned and Aya Rosen
Chef-partners Alex Raij and Eder Montero recently opened El Comedor, a full-on dining room attached to the famously tiny El Quinto Pino in Chelsea, and this weekend marks the beginning of brunch, which will be served from 11:30 a.m. to 3:30 p.m. in the new space. The menu includes Catalan salt-cod salad, several egg dishes, and sweets like a plancha-griddled croissant with orange-blossom marmalade. El Comedor's lunch service, which begins today, replaces lunch at Txikito and includes a number of formidable sandwiches, including a Cubano made with morcilla and ham, and the "Doble" burger served with cornichons and Idiazabal cheese, as well as, of course, Raij's famous uni panini. Check out the full menu, straight ahead.

Ensalada/Sopa (soup and salad)

Xato — Catalan salad of raw salt cod, grated tomato, romesco, anchovy and chicory • 14

Sopa dia (soup for day)

Tapas Frias /cold tapas

Huevos Rellenos — Organic deviled eggs , green tahini • 6

Pan amb Tomaca — Garlic and tomato rubbed bread, sea salt, Catalan olive oil • 5​
with Cantabric anchovies • 12

Picos y Taquitos — Imported chorizo, za'atar marinated Manchego, housemade Menorcan style spreadable sausage, Canadian honey, artisanal breadsticks • 12

Caballa en Conserva — olive oil cured Mackerel with Porto-Muiños style Kombu-Pikillo salad • 9

Tapas Fritas/fried tapas

Nuestras Bravas — Our signature rough cut potatoes, spicy aioli • 6

Pipparas — Blistered peppers with sea salt • 9

Garbanzos Fritos — Crispy pimentón dusted chickpeas • 4

Croquetas — Creamy Serrano ham croquettes • 5

Tortillita de Gamba — Andalucian shrimp and chickpea wafers • 6

Dulce/sweeter side

Talo — Cornmeal waffles with homemade txistorra sausage, Canadian maple syrup•12

Ensaimadas — olive oil and lard enriched Menorcan sweet bun •6

Croissant a la Plancha- griddled croissant, orange blossom marmalade • 8

Torrijas — Basque French toast, citrus, PX syrup • 15

Churros — Spanish crullers with dulce de leche • 6

Huevos/eggs

Tortilla Española — Classic egg & potato omelet • 7

Tortilla de Bakalao — Ciderhouse cod omelet, Pil pil sauce • 13

Soldaditos de Txitxiki — Poached eggs, crispy chorizo hash soldier for dipping • 11

Verdes — Fried eggs with sweet peas, onions, imported jamón • 12

Pisto Manchego — poached eggs with vegetable stew • 10

Revuelto Ortiguilla — Scrambled eggs with imported sea anemone • 14

Revuelto Huitlacoche — Scrambed eggs w/ fire roasted poblanos and corn smut • 14

Huevos Estrellados — Fried egg, chorizo, crushed potato chips • 12

Huevo con huevo — Poached eggs, snow peas, fresh mayo, flash fried Cadiz shrimp• 14

Morcilla Casera — Housemade blood sausage, organic fried egg • 14

Bocatas/sandwiches

El Doble — Double beef Patty, Idiazabal, sweet pickled onions, cornichons, "salsa especial" • 12

Uni Panini — Sea urchin sandwich • 15

Bocadillo de Calamar — Flash fried squid po' boy, spicy aioli, lettuce, tomato • 10

Lomo — House cured pork loin sandwich, melted cheese, piquillo pepper • 10

Pringa Cubano — Pressed sandwich of homemade morcilla, jamón, peppers, cheese, pickle, "salsa especial" • 15
401 W. 24th St., at Ninth Ave.; 212-206-6900
This post has been updated to show that lunch service begins today.