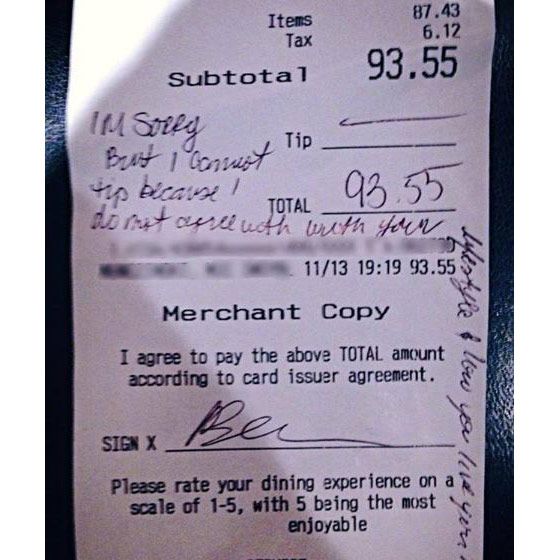 The receipt in question.
Photo: Facebook/Have A Gay Day
Customers have been traveling from as far as the Bronx to visit — also, tip — Dayna Morales, the New Jersey restaurant server who was refused a tip by a customer claiming offense at Morales's gay "lifestyle," scrawling out, "I'm sorry but I cannot tip because I don't agree with your lifestyle" on the credit-card slip. Customers and well-wishers have so far left $2,000 for Morales, and the server says she'll give the money to the Wounded Warrior Project, a fund for injured veterans.
But that's not all: The Bridgewater, New Jersey, restaurant that employs Morales — who served with the U.S. Marine Corps — will match the donated amount. "I never really expected or imagined this could happen," she tells the tells the Star Ledger. The family who withheld a tip probably also never imagined this could happen.
Waitress who got anti-gay 'tip' gives donations to fellow soldiers [Star-Ledger via Gothamist]
Earlier: Family Refuses to Tip Restaurant Server With Offensive Gay 'Lifestyle'
Related: Restaurant Check Sermons: The Weakest Kind of Power Grab