It's never been difficult to find celebrity chefs willing to parade around their dining rooms, glad-handing customers or pushing their cookbooks, which are conveniently for sale near the host station. (Even in the seventies, a proto–celebrity chef like André Soltner was a fixture in his dining room at Lutèce.) But increasingly, other members of the kitchen staff have been appearing tableside, too. At more and more restaurants, cooks are encouraged to take leave of their stations in the kitchen in order to deliver food and interact with customers; it's the latest example of kitchen culture creeping into restaurants' traditional service structure.
Chefs and cooks at Eleven Madison Park regularly head to the dining room to grind carrot tartare tableside, or to explain just how Pat La Frieda achieves that fine filigree of dry-aged fat lacing the 140-day-aged rib eye. At Aska in Williamsburg, guests may find themselves face-to-face with the chef Fredrik Berselius in the restaurant's tiny dining nook. And in September, partners Mario Carbone, Rich Torrisi, and Jeff Zalaznick tweaked the meal format at Torrisi Italian Specialties so that it now includes tableside plating from cooks, with a little explanatory food patter on the side. Tribeca's Le Restaurant, London's much-lauded Clove Club, as well as Alinea and Elizabeth in Chicago all feature some element of kitchen-staff delivery, too.
It wasn't always like this. In 2001, for example, I was working as a cook at Alain Ducasse at the Essex House. On December 31, we were cleaning our stations after service when the chef announced we had one last task to complete that night: We were handed new paper toques and instructed to snake out into the dining room, beating copper saucepans with wooden spoons at midnight to wish the guests a happy New Year. It was the only time we were ever allowed to set foot in the dining room, and it was mortifying.
"For the last ten or fifteen years, the front of the house has been evaporating," says New York restaurant critic Adam Platt. "Chefs are front and center in everything now." He adds, "It used to be a restaurateur's culture, but the chefs are the restaurateurs for the most part — they're the ones running the show."
He's right, of course. While kitchens were once predominantly closed off to customers, the eighties and nineties saw the rise of the open kitchen: First glass windows that showed cooks in action, then even wider windows and open walls that tended to break down any barrier between kitchen and dining room. In the aughts, chefs looked to sushi counters and saw a chance to break down the barriers even further, setting up chefs' counters where kitchen staff could interact with customers directly. Cooked-delivered dishes are simply an extension of that movement — chefs' counters without the actual counters.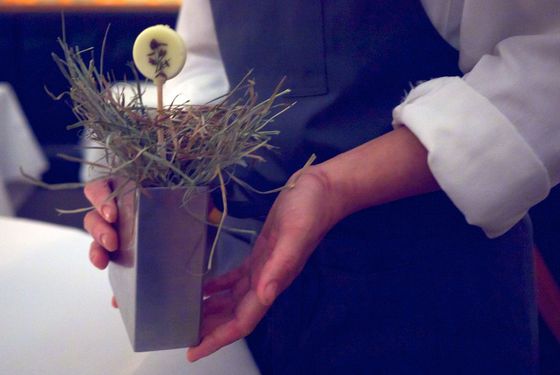 A chef-delivered lollipop at Eleven Madison Park.Photo: Larry Halff/flickr
The practice began to take hold at the tremendously influential Noma in Copenhagen, where René Redzepi and his team of cooks not only deliver particular dishes to diners, they also start most nights greeting customers when they walk into the restaurant. It has the effect of making the guests feel more connected to the people cooking their food.
"It's really nice to see a younger, more inexperienced cook running with a manager in the dining room," says Daniel Burns, the former pastry chef at Noma, who is now chef-owner of Luksus in Greenpoint. Burns says that from 2006 to 2009, Noma's cook-delivery system developed from a curiosity into a robust part of service. "I'm not sure why it started," he recalls. "Maybe there weren't enough servers."
Now, though, it's an integral part of the restaurant, and the advantages are clear: Allowing cooks and diners to interact, however briefly, has the effect of making a kitchen's unique ingredients and high-minded techniques feel more approachable. Guests relax. (Burns's own restaurant has only 26 seats and a wide-open view of the kitchen. During dinner, he happily delivers and explains dishes, and chats with guests sitting at the counter. He doesn't really have a choice, since he's standing about two feet away, and facing them all night.)
Still, not everyone loves the concept. The most prominent critic of cook delivery is Daniel Boulud, who says that the only place he wants to be served by cooks is at a sushi bar. "Basically this concept is turning cooks into waiters," he says. "Not that I don't like the idea of this evolution, but I believe service is service; it's still a craft that should be practiced by the pro." Boulud, whose front-of-house system includes servers, captains, a maître d', bus boys, food runners, and others, sees one way it works: "For places where it is hard to find professional waiters, it might be a great solution."
Food writer Jay Cheshes, who recently left his post as the restaurant critic at Time Out New York, agrees that it's a move other restaurants shouldn't necessarily implement just because it's trendy. He imagines it could get out of hand, with dining rooms clogged with cooks because someone erroneously thinks it might help save money on wait staff or telegraph some renegade vibe: "There's nothing worse," Cheshes says, "than getting your food delivered by a surly, stressed out, grease-spattered chef who'd rather be in the kitchen."